Wales needs to be united to win investment, says CBI Wales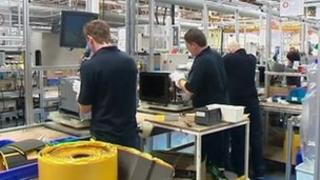 Business leaders say Wales needs to be more united at home to win inward investment from abroad.
CBI Wales was reacting to a group of MPs who said recognition of Wales had suffered abroad since there was no longer an agency promoting trade.
Its director said public and private sectors "must forge a closer union".
The House of Commons Welsh Affairs Committee said investment opportunities had been missed since the Welsh Development Agency (WDA) was scrapped.
CBI Wales director Emma Watkins said: "The committee is right to highlight barriers to inward investment into Wales, such as skills and infrastructure.
"If we are to attract world class investment, we need world class people and world class access to our country, starting with the major gateways to Wales such as the M4."
She said the MPs were also correct to say Wales was no longer in the premier league for inward investment.
"No western economy can successfully compete on the basis of cheap land and cheap labour. Nor need we," she said.
"Wales has much more to offer and we must lay the foundations of a new approach that is grounded in the future and not in the past.
"If we are to win abroad we must be united at home. If we are to stake our claim to a slice of the global jobs market, Wales' public and private sector must forge a closer union."
She said it was encouraging the committee and the Welsh government were devoting attention to the issue.
Bonfire of the quangos
The MPs called for a successor to the WDA to market Wales around the world.
The MPs on the committee said getting rid of the WDA as part of Labour's bonfire of the quangos in 2006 had reduced Wales' visibility in the global market place.
They called for a successor to market Wales around the world.
They were also critical of Welsh government Business Minister Edwina Hart for refusing to appear before them.
The Welsh government said its new way of attracting investment was "flexible", while the WDA had run its course.
Elizabeth Haywood, director of the South East Wales Economic Forum, said it could take time before the benefit of any improvements were felt.
"We know for a fact that Wales is not doing anywhere near as well on the inward investment stakes as we used to do," she said.
"What we're not entirely sure about is what has caused that, though we've got some good ideas, or indeed what we need to do about it in order to pick ourselves up again.
"One of the very obvious things in all of this is that inward investment takes a while to come through whatever we do.
"There are things going on at the moment to start putting that right but it will take a while before it feeds through the pipeline."
Dr Andrew Crawley, research fellow at Cardiff Business School, said Wales was not realising its potential.
'Coherent message'
"We do have something to offer, we do have something to sell but we're not communicating it well to the world," he said.
"We seem to lack the ability to co-ordinate the services to put a coherent message out there to tell people what we have to offer.
"It isn't that we're bringing in no inward investment, but we're not punching at our weight."
The Welsh government said it had already recognised the need to "enhance our trade and investment effort in these difficult economic circumstances and an increasingly competitive market place".
A major projects team has been established for trade and investment.
"Our new model is a more flexible and responsive model and fit for the future, not simply a throw-back to the WDA, which had run its course," said a spokesperson.