Social care services in Wales variable, say inspectors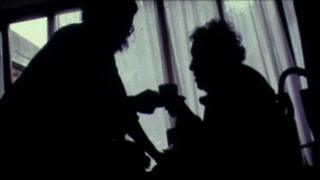 The quality of social care services in Wales remains variable and improvements are still required, says a report.
More needed to be done to "consistently deliver good quality assessments and care management" for adults and children, said Care and Social Services Inspectorate Wales (CSSIW).
However, the chief inspector's report said improvements had been made.
Those providing care were said to be better skilled and qualified, and were listening more to their customers.
CSSIW chief inspector Imelda Richardson said in the report: "The year 2010-11 saw some significant positive developments in social care and social services.
"The continuing efforts of local authority social services to collaborate in the delivery and improvement of services are particularly welcome.
"Nevertheless, the quality of social care and social services remains very variable across Wales.
"This remains the territory for improvement as, wherever they live, citizens deserve consistently good quality services that are safe."
Her report said the lack of continuity of staff continued to be a concern for people who used services, and it also highlighted the "significant" waiting lists for some services for adults.
In children's services, improvements were needed to "achieve better support services for children in need and improved support for looked after children from local authority education services".
The report said: "Local authorities and partners are clearly attempting to focus resources on children who are looked after, as illustrated by improvements in allocating social workers to such children, up from 91% in 2008-9 to 94% in 2010-11.
"However, the assessment and care management of services for children remain inconsistent with the quality of case management deteriorating once the initial concerns have receded.
"In addition it is of concern that only 60% of looked after children were supported by timely educational plans in 2010-11."
But there was also praise from the chief inspector for improvements in care services.
These included local authorities and social care services increasingly working together "to deliver innovative and sustainable services".
The report also said the best care homes and domiciliary care services "combined good leadership with clear vision and purpose, recruited good staff locally and took care to look after them and those using services".
Ms Richardson said: "This report recognises the improvements that have been made in social care services, as well as those significant improvements that are still needed."