Welsh food producers seek Middle East markets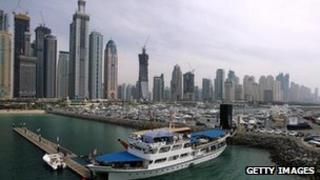 Food and drink producers are looking to the Middle East as a growing market for Welsh produce.
Six companies are exhibiting their goods at a trade fair in Dubai.
They say foreign exports are increasingly important to the Welsh food industry with a third of lamb produced in Wales shipped abroad.
A number of those taking part already export to the Middle East with food sales to the United Arab Emirates (UAE) worth over £109m to the UK in 2010.
It is the eighth consecutive year there has been a Welsh Government stand at the Gulfood event.
Last year the trade fair attracted over 62,000 visitors along with buyers from retail, airline and public sectors, as well as restaurateurs, hoteliers, importers and distributors.
'Demand increasing'
Laura Dodds, marketing manager for the red meat promotion agency Hybu Cig Cymru (Meat Promotion Wales), said Welsh lamb broke into the United Arab Emirates market in 2007.
"Exports play a key role in the success of the Welsh Lamb brand.
"They account for about a third of all Welsh lamb sales, with demand increasing not only in our traditional European markets but also in Canada and the far east.
"We will talk to existing and potential customers from across the globe and giving them samples of our world-beating products to taste."
The other companies taking part are Llanllyr Mineral Water and Rachel's Organic from Ceredigion, the Newport-based Real Crisp Company, the Abergavenny Fine Food Company, and Trioni Ltd, makers of the Daioni flavoured milk drinks in Pembrokeshire.
They will be part of a "Wales the True Taste" pavilion at the show, which is being held at the Dubai International Convention and Exhibition Centre from Sunday until Wednesday.