Severn ferry plan between south Wales and Devon 'not forgotten'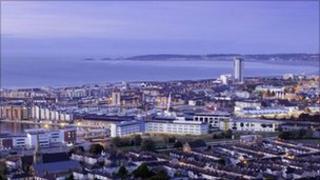 Plans for a ferry service between south Wales and Devon could still happen despite setbacks, it is claimed.
Severn Link had hoped to start the route between Swansea and Ilfracombe in 2010, and sea trials had been carried out on the catamarans.
Issues over landing facilities and the withdrawal of an investor led to delays, and the vessels were sold.
However, Severn Link founder Chris Marrow said he had not given up and it was still very much a "live project".
"We are still working on it. It's not forgotten but it's quite hard to predict," he said.
"I'm loath to give a date. Having almost got started and then disappointed people I'm loath to disappoint them again.
"We're not talking about this year but, if things fall into place, next year could be a possibility, but it's only a possibility.
"There's a lot of ducks to get in a row."
The original plan was for a ferry link between Swansea and Ilfracombe, but a service between Cardiff and Minehead was also being considered.
Marine specialist Mr Marrow said that all options were currently being considered.
New vessels
He said there had been issues over infrastructure, such as the landing facilities in Swansea, and concerns over access at Ilfracombe when there were high winds.
"We are trying to deal with that. If we can deal with that, we could put in a car ferry," he said.
"We're working on other things as well. It would be a lot easier if the infrastructure was in place.
"Having come within weeks of starting and not being able to do so, we have to set up a new business plan and get funding in place."
He said he believed that if the infrastructure was sorted out, then funding would follow.
And although the vessels planned for the service have been sold, he added it would be relatively straightforward to buy others.
"The two catamarans were sold. They're with a Russian operator in the Black Sea," he said.
"To be honest, it's a buyer's market. I'm getting four or five adverts every day at the moment for ferries. There are vessels about."
Earlier in February, the owners of the Swansea-Cork ferry announced its closure with the loss of 78 jobs, having suspended sailings in November.