Architect Rob Firman's 'mission' lists 111 theatres in west and south Wales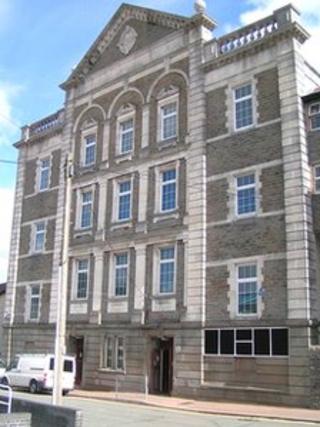 An architect who made it his mission to visit every theatre and performance building in south Wales was surprised to discover dozens of "hidden gems".
Rob Firman aimed to be the first person to catalogue the venues and thought there would be about 30.
But he ended up finding 111 buildings: 71 are still used for performances, while others have changed their use. He also traced 46 that were demolished.
"I doubt Wales even knows it has so many theatres," he said.
But he warned more needs to be done to ensure that Wales does not lose its rich array of performance architectural heritage.
He suggested staging a festival every four years to use and promote all the venues.
Mr Firman travelled over 3,500 miles in 15 months in search of possible theatres and performance buildings from Milford Haven in the west to Monmouth in the east and from Brecon in mid Wales, and to Barry on the south-east coast.
His criteria for cataloguing a venue was that it had to have or previously had a stage used for performing, although this did not include local village halls.
Derelict hall
He said each theatre he found led to another, until he finally catalogued 111 old and current venues, listing details such as the number of seats, size of stage, the architect, and other observations.
Mr Firman, who specialises in architecture for the performing arts sector and worked on the Wales Millennium Centre in Cardiff, found hidden gems, such as a derelict old hall in Glyncorrwg.
He discovered it in the heart of the Afan Valley, dating back to the turn of the 20th Century, which two local brothers had bought in the hope to restore.
"It was a real surprise for me as I'd never heard of it," said Mr Firman, who has compiled his research in a book called The Theatres and Performance Buildings of South Wales.
"It's this huge cinema and it was just this majestical moment of finding this building in the middle of nowhere and that nobody I know or worked with had ever heard of.
"That sums up the enjoyment of the whole experience for me - finding places people don't know about."
Others he found had been turned into pubs, bingo halls or had been left derelict.
Mr Firman said when he plotted the theatres' locations on a map, he could trace the lines of the south Wales valleys.
This was because miners had built performance halls in many valleys towns and villages at the turn of the 20th Century, he said.
However Mr Firman warned that the rich heritage they left was now at risk, with many miners' halls closed and others struggling to survive - their demise brought on by the dawn of television and the fact communities stopped socialising together so often.
"We need to save them. They're part of the history of the nation. The ones most greatly at risk are frequently ones that were built by communities for communities," said Mr Firman, who decided to undertake the search after a project he was working on was put on hold.
"Miners' halls, for example, were built by the community from their own salaries. If we were to let them go, it would be insulting to the memories of these people.
"They worked very hard to create these venues and now we often treat them with disdain and ignore them.
"They're nothing once they have gone."
'Luxury goods'
But he believes communities have now come full circle, with more taking pride in their villages and towns again and some trying to restore the halls, such as the Memo in Newbridge, Caerphilly, which campaigners have been given funding to restore.
"There's been a lot of research which proves that regenerating a theatre can help regenerate an area - house prices improve, more shops go there. More people come there and spend money. It gives a good perception of the area," said Mr Firman.
"Every pound spent on capital projects for the arts returns £3 to the economy. So investing in the arts can really help communities.
"The problem, however, is always money. Priorities [for governments] at the moment are different - they're towards health care, education, jobs creation, etc. So buildings for the arts are luxury goods really."
However, he said without people using the theatres, there was a danger even more would be lost.
"I'd like to see a quadrennial festival, held every four years, in which all of south Wales' theatres are used," he said.
"It would be a lot to organise. But to have all 71 theatres being used in a connected way to promote tourism and reinforcing the image of how great Wales is.
"How amazing would it be given the characteristics of the Welsh people, given their love of performing and singing. How great to use all those theatres."