Sean Penn's Argentina Falklands support angers Simon Weston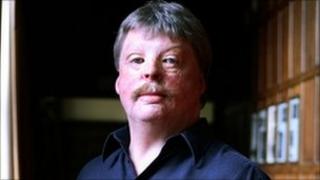 Falklands veteran Simon Weston has strongly criticised the actor Sean Penn in a row over the islands' ownership.
It comes after the double Oscar winner claimed the UK was "colonialist" in retaining the Falklands.
With the 30th anniversary of the Falklands conflict near, Mr Weston, a former Welsh Guardsman, said the actor did not know what he was talking about.
Mr Penn said he was on the Argentines' side after meeting President Cristina Fernandez de Kirchner in Buenos Aires.
He met political leaders in his role as ambassador-at-large for Haiti and called the Falklands by their Argentinian name, Las Malvinas.
Mr Weston suffered serious burns in an Argentine bomb attack on the ship Sir Galahad that killed 48 people in 1982.
'Propaganda-mongers'
Mr Weston claimed the actor had "fallen into the hands of the Argentine propaganda-mongers" and had given too little regard to people on the Falklands.
"The only people that matter are the islanders. They cannot sleep easy and he's shown no sensitivity over their situation.
"These people are living in the shadow of a regime prepared to invade, to steal their freedom and democracy," he said.
"He's stirring up trouble for a small group of people who have to be heavily defended."
Mr Penn also said, during a press conference, that deploying the Duke of Cambridge to the islands was "not necessary" and "unthinkable".
Mr Weston said the criticisms were "disgusting".
He added: "Prince William is a proud, decent and caring young man who is carrying out his job."
Tensions between the UK and Argentina have been running higher than usual after the Duke's deployment as a search-and-rescue helicopter pilot.
Mr Penn's remarks come as the 30th anniversary of the start of the Falklands War approaches on 2 April.
A total of 255 British servicemen were killed retaking the islands after the Argentine military junta invaded in 1982, while 649 Argentine troops died.