Problem drinkers: Alcohol Concern Cymru call to remove stigma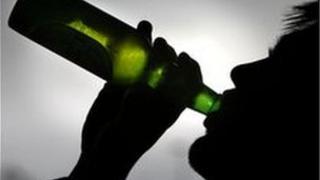 People in Wales are being urged to be more honest about the role of alcohol in society, in an attempt to remove the stigma attached to drinking problems.
An Alcohol Concern Cymru report, Everyone's Problem, challenges the idea a small group of drinkers are to blame.
It urged ministers to invest more in local alcohol treatment services.
In response, the Welsh government said it was seeking more powers from the UK government to tackle alcohol problems, including licensing and minimum prices.
'Toxic and addictive'
Andrew Misell, manager of Alcohol Concern Cymru, said the name of the report was significant.
"It's very easy for us to think of alcohol problems as someone else's problem," he said.
"When we asked people what they thought of as an alcohol problem, nearly half said it meant drinking every day, and many others referred to extreme examples such as when someone was too drunk to walk, or got into fights.
"These comments show how keen many us are to put some distance between our own drinking habits and those we see as having a drink problem.
"In reality, the line between sensible drinking and alcohol misuse is not always clear, and many of us cross it from time to time."
Mr Misell added that the way alcohol is marketed reinforced the idea that it was a "neutral product" that only caused problems in the hands of a minority.
"We need to be honest with ourselves, and recognise that whilst alcohol is a familiar part of most of our social lives, it is also a toxic and addictive substance," he said.
"This is not to excuse individual drinkers from personal responsibility, but we have to recognise that a society that uses alcohol will face a certain level of alcohol-related problems, and these must be dealt with appropriately and sympathetically."
Action urged
The report urges the Welsh government to prioritise spending on alcohol treatment services, boost the role of area planning boards, and to record the numbers of dependent drinkers to ensure more were treated.
The organisation claims that more people suffer problems due to alcohol than other drugs.
It says there were 15,314 referrals for treatment for alcohol misuse in Wales in 2010-11, accounting for 53% of referrals for all forms of substance misuse.
A Welsh government spokesperson said alcohol remained a priority within almost £40m allocated or ringfenced for substance misuse services in Wales.
But the spokesperson added that it wanted the UK government to take tougher action on issues such as alcohol pricing or licensing, or devolve responsibility to Wales.
"We would like to see a minimum price per unit of alcohol introduced in Wales but the power to do this currently lies with the UK government," said the spokesperson.
"We have also requested power to legislate on alcohol licensing but this was rejected by the UK government.
"At a time when the UK government is cutting many budgets, the Welsh government has demonstrated its commitment to substance misuse services by protecting levels of investment."