Iceland Malcolm Walker management buy-out deal talks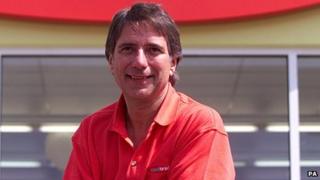 The founder of Flintshire-based supermarket chain Iceland is in exclusive talks for his management team to buy the company ahead of other contenders.
Chief executive Malcolm Walker, 65, has reportedly bid £1.55bn for the frozen foods firm he started after investing £30 in a shop in Oswestry in 1970.
Mr Walker said a deal was likely to be reached in two to three weeks.
The talks are with two Icelandic banks, which own 77% of the shares.
Mr Walker and the management team own the rest of the shares.
The retail chain employs 22,000 and has 780 shops.
In a statement issued late on Wednesday, he said: "I am delighted that the Icelandic banks have recognised the importance of management to the continuing success of the business, and have been supportive in giving us the exclusive right to pursue negotiations with them.
"I have every hope that we will be able to bring these to a successful conclusion within the coming weeks."
He has declined to give details on the financing of his bid, but has said he was not working with rival private equity bidders Bain Capital and BC Partners.
He told Reuters: "We've moved into exclusive talks."
Mr Walker returned to the firm as chief executive in 2005 after leaving four years earlier after amid falling profits, having built the chain into a multi-billion-pound business.
'Maximising proceeds'
The firm, which claims it has five million customers each week, passed to two Icelandic banks, Landsbanki and Glitnir, after the Icelandic investor Baugur went into administration.
A statement on the Landsbanki website reads: "Landsbanki Islands hf. confirms that the bank and Glitnir have entered into exclusive discussions with ManagerCo, a company owned by the senior management team of Iceland Foods, including Malcolm Walker, to sell their respective shareholdings in Iceland Foods.
"Landsbanki believes that this approach delivers the most certainty around sale completion whilst achieving the objective of maximising the proceeds from the sale of the shares."