Polish migrant workers' power station compensation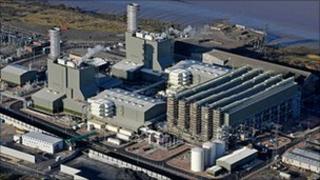 Fourteen migrant workers who carried out construction work in south Wales have won more than £250,000 in compensation.
The men, from Poland, are due the payout from sub-contractor Darmar for work at Severn Power Station in Uskmouth, Newport.
An employment tribunal heard they did not get the correct overtime payments.
But the union representing the men said they may not get their cash because their employer had left the UK.
Jeff Beck, of the GMB, said: "The order is enforceable in the UK but the employer has now closed their offices... and has left the UK.
"That makes it impossible to enforce the order while they are out of the UK.
"We have an officer in Brussels and we will be raising this in the European Parliament to see if there are any avenues that can be explored and to expose these people who can just go to another member state and get away with these payments."
The men were not paid the correct amounts for overtime, were deducted a day of lodging allowance per week and did not receive leave payments for seven months.
They are due to receive around £18,000 each in compensation.
The money was due through national agreements during the construction of the power station, said Mr Beck.
"We looked at their payslips and the amounts of money being paid into their bank accounts, which just didn't tally," he said.
"We raised this with the auditor on site and then it came to light that these people were being exploited and receiving substantially less than they should've received."
He said exploitation was a widespread problem not just in the construction industry, but "in many industries where these people are coming into the UK to work and being totally exploited by unscrupulous employers."