Gambling addicts in south Wales offered help by Addiction Recovery Agency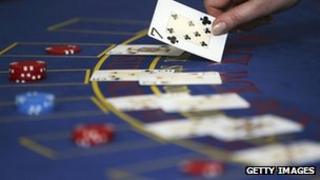 People with gambling problems in south Wales are being offered help through a new three-year pilot project.
Addiction Recovery Agency's (ARA) new service in Cardiff, Swansea, Newport and Merthyr Tydfil will provide advice and raise awareness of gambling problems.
It said gambling addiction was a hidden problem that was on the increase.
The charity said it was providing a service that would otherwise not be available locally.
"Many people in the advice and helping professions are unaware of the signs of problem gambling so those needing help often go unnoticed," said ARA chief executive Peter Walker.
"The new service launched in Cardiff today will aim to raise awareness of problem gambling and offer help to sufferers at an early stage."
He said ARA had been providing treatment and support to people with addictions for 25 years.
In Cardiff alone, it is estimated that there are around 3,300 people who would be considered pathological gamblers.
ARA has set up partnerships to help provide the service in south Wales, such as with the Pen yr Enfys charity in Cardiff and the Vale of Glamorgan.
Steve James, director of Pen yr Enfys, which supports people to overcome drug and alcohol abuse, said addictions were "similar across the whole spectrum of problems".
"It will be short-term intervention rather than long-term support. They would have a number of counselling-type sessions to get them to understand how serious their situation is," he said.
"If they need longer-term support, there's other parts of our organisation and other organisations to do that.
"This is the initial stimulus go get people back on their feet."
Family relationships
A gambling intervention worker has now been recruited at Pen Yr Enfys in Cardiff.
The pilot project has been established following UK-wide research which suggests gambling is on the increase.
Professor Leighton Vaughan Williams, who is from Merthyr and is director of the betting research unit at Nottingham Business School, said gambling problems could affect people from any background.
"Although it's a very small proportion of people that have a problem, it can be anybody," he said.
"People think it's just young men or unemployed [people] but that's not the case as it can be men, women, wealthy, poor, anybody.
"They really need to seek help if they find it's becoming a problem with their family relationships or it's creating financial problems."
He said the popularity of online betting was not necessarily a problem, it was more to do with the type of betting people were taking part in.
"There are certain types of gambling that are associated with a problem - quick-repeat gaming machines where you can lose your money quickly," he said.
"The National Lottery or betting on horses or football is less likely to be associated [with problems] because it's not so quick repeat."
He said UK betting websites were regulated by the Gambling Commission but standards were not necessarily so high for offshore sites.
The new service in south Wales is funded by the Responsible Gambling Fund, which receives cash from a voluntary levy on the gaming industry.