Airbus investigation into how wing cracks developed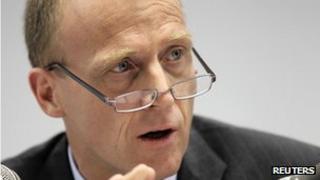 The head of Airbus has ordered an internal investigation into how wing cracks developed on its flagship A380 passenger aircraft.
Last month, the European Aviation Safety Agency (EASA) ordered inspections after two types of cracks were discovered on a bracket.
Wings for Airbus are made at Broughton, in Flintshire.
The company's chief executive, Tom Enders, dispelled safety fears and said the plane was "absolutely safe to fly".
In January, Airbus ordered checks to be carried out on all A380 superjumbo planes in service after cracks were discovered during wing inspections.
Speaking at an airshow in Singapore, Mr Enders said: "I can say this plane is absolutely safe to fly. I don't want to go into all the specifics here."
He said lessons had been learnt from the situation.
Mr Enders added: "We have a thorough investigation under way in our own company, how we could make these mistakes in the first place and to eradicate the sources of mistakes like that for the future."
EASA confirmed last month that A380s which have flown more than 1,384 flights will need inspections within three weeks of of 13 February.
Those with between 1,216 and 1,384 flights will need to be seen within six weeks of that date.
Planes with fewer than 1,216 recorded flights will be inspected at the next routine maintenance interval, it added.
The A380 was first unveiled in January 2005, but production delays meant deliveries did not start until October 2007.
There are currently 253 A380 jets on order to carriers worldwide but they are not used by UK airlines.