Roath and Cwmdonkin parks could be protected as Wales' first quiet areas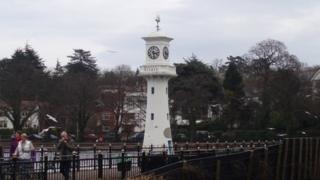 Green spaces across south Wales could be become recognised as the country's first quiet areas.
It would mean their role as havens from the sounds of the city are protected.
Twenty-nine sites are under consideration, including Cardiff's Roath Park and Cwmdonkin Park in Swansea.
The Welsh government said it wanted to make sure people in towns and cities had somewhere to unwind.
Lists of potential sites have been submitted by councils in Cardiff, Swansea, Neath Port Talbot and the Vale of Glamorgan.
Once designated as quiet area they would be protected from increases in noise by the European Environmental Noise Directive and planning policy.
'Relax'
Environment Minister John Griffiths said: "It is important that people living and working in large urban areas have access to quiet areas where they can relax, unwind and enjoy time with family and friends.
"Many of the areas in this consultation are home to birds and other wildlife.
"The Welsh government values the role these areas play in their neighbourhoods and is committed to preserving them for the future."
Swansea council said it had nominated Cwmdonkin Park because of its "perfect blend of natural beauty and excellent facilities".
The Grade II listed park has been awarded £820,000 by the Heritage Lottery Fund to restore it to its Victorian glory.
Near the childhood home of Dylan Thomas, the poet reminisced about it as a "world within the world of the sea town... full of terrors and treasure".
Annie Haden, chair of the Friends of Cwmdonkin Park, said it held childhood memories for her too. "When I walk into the park now I can still feel those memories," she said.
A consultation will close on 7 May, with the potential for other sites to be nominated.