Frankie Boyle booking at Wales Millennium Centre turned down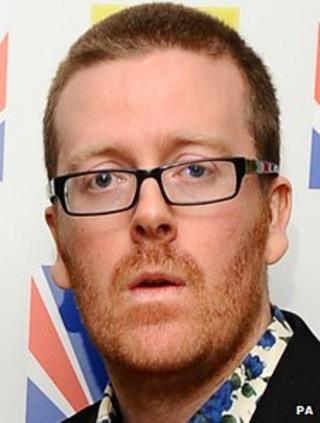 The Wales Millennium Centre (WMC) has defended turning down a booking for controversial comedian Frankie Boyle.
The Cardiff venue said it decided not to host the comic at the height of the controversy over his comment about Katie Price and her son Harvey.
Boyle was censured by media watchdog Ofcom for appearing to "target and mock the mental and physical disabilities" of the eight year-old boy.
Boyle's management company have been asked to comment.
Reality TV star Katie Price had complained to Ofcom after Glaswegian comedian Boyle made fun of her son during his Channel 4 show.
Last April, Ofcom upheld 500 complaints about Boyle's routine, which had been broadcast in December 2010.
Channel 4 said Boyle's comedy was not "intended as a slur on any particular community", but that "everyone is fair game in Frankie's eyes".
Boyle embarks on a summer tour, labelled The Last Days of Sodom, in July.
It has emerged the comedian wanted to include Cardiff but was turned down by the WMC for its 1,900-seater main theatre, when it was approached last year.
The venue is home to a number of arts organisation as well as a disability charity.
A spokeswoman said: "Wales Millennium Centre prides itself on its accessibility policies and is home to the Touch Trust, a charity which provides arts activities to people of all ages with the most profound disabilities.
"In the light of this, and after careful consideration, the centre made a programming decision not to take this booking at that particular time.
"We wish to emphasise that we offer a broad and eclectic mix of programming at the centre and we regularly welcome many of the UK's leading comedians who return time and again to sell-out audiences."
Boyle's management company was approached for comment.