Swansea surgeon condemns cable thefts which hit three hospitals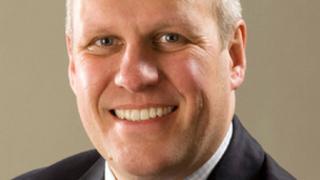 A senior surgeon has criticised cable thieves after hospital computer systems were hit by an incident in Swansea.
Neath Port Talbot, Singleton and Morriston hospitals had to go onto a back-up system earlier this month.
Orthopaedic surgeon Dougie Russell, who could not access X-rays, said it had a "direct effect on NHS services".
Llandough Hospital in the Vale of Glamorgan was targeted in December and forced to postpone over 80 operations.
The University Health Board (UHB) at the time called the theft of cables for a generator "dangerous and irresponsible".
The Abertawe Bro Morgannwg University Health Board (ABM) in Swansea has been hit five times since 2010 by thieves stealing communications cables in the local area.
'Consequences'
The latest incident affected the hospital after Virgin Media communication cables were stolen in the city on 2 February.
Neath Port Talbot, Singleton and Morriston hospitals were hit and had to go onto their back-up systems.
A children's orthopaedic clinic in Phillips Parade, Swansea, lost all telephone and computer systems, which caused "chaos", said a spokesperson.
Hospital X-ray images are now computerised so they can be easily accessed but when communication lines are hit, broadband speeds are affected and access to information is delayed.
Dougie Russell, the director for Musculo-Skeletal Services in Swansea, spoke out after he failed to access key X-ray images.
The senior surgeon with the ABM Health Board said the incident was "not just an inconvenience... it has the potential to reduce the quality of care we can give patients.
"Thieves who steal communication cables don't realise the consequences of their actions - it has a direct effect on NHS services," he said.
A Virgin Media business spokesperson said the "malicious damage" to part of the network had impacted on the services the company delivers to the health board.
The cable theft in the Swansea area also affected other users, such as rail transport.
Virgin Media said it was continuing to liaise with police.
A spokesman for South Wales Police confirmed officers were investigating the theft at 01:20 GMT on 2 February from the Glanmor Road area of Swansea.
He said anyone information should ring the police on 101, or contact Crimestoppers.
The incident has also been condemned by Swansea East MP Sian James.
"Cable theft has grown. My own office was struck twice just before Christmas, which was of great inconvenience to me and my constituents," she said.
Ms James said she believed the incident at Morriston hospital could have put lives at risk.
"It is clear to me and others that we need a much tougher licensing regime for dealers.
"We have to end this buying at the back door mentality and require that anyone selling materials to scrap metal dealers prove their identities and provide documentation on where and when the metal was sourced," she added.
Swansea West MP Geraint Davies has also called for scrap dealers to be licensed and tougher police powers to deal with rouge traders.
Llandough Hospital in the Vale of Glamorgan was forced to postpone more than 80 operations in December after a generator was targeted by cable thieves.