More NHS staff taking time off for stress and related problems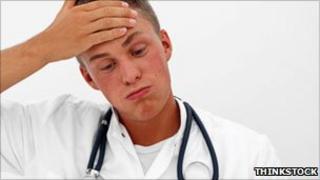 The number of NHS staff taking time off due to stress or related health problems at four of Wales' health boards has increased, figures show.
Hywel Dda and Betsi Cadwaladr reported rises of 40% and 34% in two years, while in Powys the number fell by 38%.
Shadow health minister Darren Millar said it was a "worrying reflection of the burdens placed on NHS staff".
A Welsh government spokesman said it had invested in health programmes to reduce stress.
There were also increases in the number of staff taking stress-related sick leave at the Cardiff and Vale University Health Board (up 24%) and at Aneurin Bevan (up 14%).
Cwm Taf Health Board said the proportion of staff taking sick leave due to stress rose from 0.98% to 1.41% over the same period.
But Abertawe Bro Morgannwg University Health Board reported the total sick leave accounted for by stress fell from 9.54% to 9.37% in two years.
Two health boards did not provide details.
Responding to the figures, the Conservatives' shadow health minister Darren Millar questioned plans by the Welsh government to cut money from the health budget when increasing numbers of staff were suffering stress.
'Inherently stressful'
"The NHS in Wales is currently under considerable pressure and these figures could be viewed as a worrying reflection of the many burdens placed on health board staff," he said.
"In this coming financial year alone, Labour is cutting over £80m pounds from the health budget.
"This at a time when waiting list targets are not being met, vacancies are not being filled and cancelled operations are on the rise.
"Stress in any workplace is unhealthy and harmful. I would expect the health minister to speak to health boards that have seen a rise in this problem and learn lessons from those that have not."
Dr David Bailey, deputy chair of the British Medical Association's Welsh Council said he was also concerned.
"These are extremely worrying figures and clearly demonstrate the pressures faced by doctors and other health workers in Wales," he said.
"The practice of medicine is inherently stressful, therefore having a pleasant working environment, adequate staffing levels and adequate resources are essential to delivering high quality services and care to patients.
"Work related stress is a problem for the employee and employer and both should work together to address the contributory issues."
A spokesman for the health minister Lesley Griffiths said that ensuring the health and welfare of NHS staff was of "paramount importance" to the Welsh government.
"NHS organisations have invested in occupational health programmes to support wellbeing of the workforce, by for example, responding proactively to violence and aggression - all designed to help to reduce stress levels," he said.
"We already know that when it comes to the Welsh NHS, doctors in Wales would much prefer to work here than in England - and who can blame then.
"The calamitous health reforms being forced through by the Tories in England, on top of mass redundancies caused by cuts, will obviously have an impact on stress levels amongst staff there."