Post-natal depression: Fathers Reaching Out aims to help men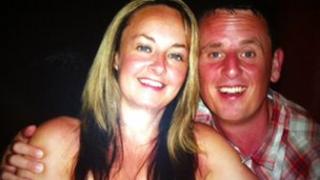 A father whose wife had post-natal depression for two years has launched a website for the partners of women who are going through the same illness.
Mark Williams, 37, from Bridgend, held the first meeting this week of the self-help group he formed as part of the campaign.
He started Fathers Reaching Out after wife Michelle was diagnosed with the condition after the birth of their son.
He said: "There is still nothing out there for men in this situation."
Mr Williams said he and his wife have not had any more children because he does not want to risk a return of the condition.
Mrs Williams was diagnosed with post natal depression after giving birth in December 2004 by Caesarian section following a 20-hour labour.
Mr Williams said: "It more or less hit Michelle straight away.
"She became very clingy.
"She was a different person, which I found strange at first because I didn't know what depression was.
"Nobody had told me about depression.
"I have to give up work for six months.
"There was the new baby, we had a new house and all the added other pressures that Michelle use to deal with and, most importantly, my wife's illness."
He added: "The isolation was the biggest thing I felt hard to cope with. How was I going to tell my friends if I didn't understand myself?
"All I worried about was Michelle getting better.
"I think there is a stigma attached to mental health.
"I was exactly like the people who still say "how can you be depressed" - with mental illness, you can't just snap out of it."
Mr Williams said he was motivated to act after realising there was very little help, if any, for men in a similar position.
Since launching the website, he has also begun a monthly self-help group which held its inaugural meeting in Bridgend last week.