Terrorism targeted as stock exchange bomb plotters jailed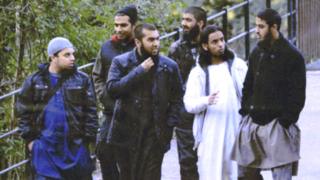 South Wales Police have promised their efforts to counter terrorism will not end with the jailing of two brothers from Cardiff who plotted to bomb the London Stock Exchange.
Gurukanth Desai, 30, and Abdul Miah, 25, were jailed for a total of almost 29 years for their role in the plan.
Nine people, including another man from Cardiff, were jailed in total.
Police said they recognised the trial may have raised concerns about extremism in Cardiff and elsewhere.
South Wales Police Assistant Chief Constable Matt Jukes said: "The sentences handed down today demonstrate that terrorism is not a remote issue.
"In Wales we have been working resolutely to counter terrorism for several years and this work will continue with vigour.
"This was a lengthy and detailed investigation led by West Midlands Counter Terrorism unit, and South Wales Police officers and staff worked closely with them over many months to ensure those involved were brought to justice.
"But we are only too aware that our efforts do not end here with today's sentence."
He said the Wales extremism and counter terrorism unit and South Wales Police would "continue to work with local communities to tackle any individuals or groups that engage in terrorism or extremism or promote terrorist ideologies".
Desai, of Albert Street, and Miah, of Ninian Park Road, pleaded guilty to engaging in conduct in preparation for acts of terrorism by planning to plant a bomb in the toilets of the London Stock Exchange.
Miah, 25, was jailed for 16 years and 10 months while Desai, 30, was sentenced to 12 years.
The court had heard that they met with the other men in Cardiff's Roath Park and later at Cwmcarn country park near Newport.
Omar Latif, 28, also from Cardiff, admitted attending meetings with the intention of assisting others to prepare or commit acts of terrorism. He was jailed for 10 years and 4 months.
The terror group, which also included men from Stoke-on-Trent and London, had planned to raise funds for a terrorist camp in Pakistan and recruit Britons to attend.
They were described by the judge as Islamic fundamentalists.
ACC Jukes said the problem would not be solved by police activity alone but by "communities working together".
'Radicalisation and extremism'
"South Wales Police is proud to have strong links with our communities, not just in Cardiff but across our force area and also the long standing support of Cardiff's Muslim communities," he said.
"Trust and cooperation is vital to make sure we all tackle radicalisation and extremism together and ensure all our communities have confidence in us and feel safe.
"The communities of Cardiff are determined to live together peacefully and violent extremism will not be tolerated."
Muslim leaders in Cardiff have already said they would remain vigilant to extremism.
Cardiff councillor Mohammed Sarul Islam has said his community condemned extremism, but added some people were "derailed and lost from the community".