Nurse advice cuts binge drinking in Cardiff University project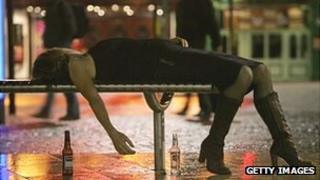 Nurses will be trained to help patients with alcohol problems across Wales after a pilot project led to about a quarter of people cutting drinking.
Staff at trauma clinics asked people with injuries a series of questions while taking out their stitches as part of the Cardiff University project.
Researchers found patients were more likely to address their issues as they were "feeling sorry for themselves".
The Welsh government is now extending the scheme across Wales.
Nurses who work in trauma and facial injury clinics will be given training to talk to all patients with an injury as they treat their wound or remove stitches.
They will take them through a series of questions about the patient's drinking habits - called the fast alcohol screening test (Fast) - and if it flags up a problem, nurses will talk to them about their issues.
They will also offer advice and support about tackling their misuse of alcohol, such as setting targets to cut down drinking or referring them to a specialist if they have an addiction.
Prof Jonathan Shepherd, director of Cardiff University's Violence and Society Research Group, said they had carried out two clinical trials and found the approach had been successful.
"It's informal and empathetic - and that's on purpose," he said.
"We found that having your stitches out the week after the injury can represent a "teachable moment".
"Having the stitches out from your leg or your face, whilst that's being done you're feeling sorry for yourself.
'Small cost'
"[The questions] can help you link up getting drunk with the predicament you got into.
"The research shows that if anyone's going to be receptive to the message about drinking it's then."
He said the "small cost" of training nurses would mean a saving for the NHS in the long run if it reduces the amount of people abusing alcohol.
"This approach basically cuts about a quarter of hazardous drinking to safe drinking in a year. That's from our research," he said.
"The amount of drinking out there is epidemic at night in town and city centres in Wales."
The Welsh government said the University of Wales Institute, Cardiff (Uwic) had trained 131 nurses as part of the pilot project.
"Public Health Wales will be reviewing this training activity to date and developing a programme of support for the on-going implementation of alcohol brief interventions at a local health board level," a spokesman said.
Dr Sara Hayes, deputy chief medical officer for Wales, added: "Evaluations of brief interventions have consistently shown them to be the most effective approach to reducing problem drinking."