London 2012: Olympic rings display outside City Hall in Cardiff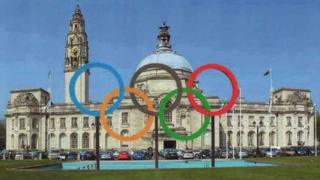 Cardiff is preparing for its year as a host venue for the London 2012 Olympics by approving plans for huge replica Olympic rings in front of City Hall.
The 5.7m (18ft) diameter interlocking rings are due to be put up at the end of the month.
In August, they will be replaced by the three Paralympic "agitos", sweeping curves in red, blue and green, which will be displayed until December.
The Millennium Stadium is to host 11 Olympic football matches.
Teams from at least 19 countries, involving around 1,000 athletes and support staff, are expected to train in Wales for the Olympic or Paralympic Games.
The Olympics will start in July while the Paralympics begin at the end of August.
Two of the football matches to be held at the Millennium Stadium will be quarter-finals, while Team GB's final group match will also be held there.
The Welsh government estimates the Olympics and Paralympics will bring millions of pounds of benefits to Wales.
The London 2010 Organising Committee (Locog) submitted a planning application for the rings and agitos displays in December.
Cardiff's planning committee voted through the application at a meeting on Wednesday evening.
Councillor Jaswant Singh, who is a member of the planning committee, said: "We need something like this in Cardiff.
"It will be really good as the rings are such an icon. It will show people that we are one of the host cities of the Olympics."
The displays, some 35m (115ft) from the building, will be floodlit and the aim is to make them the focal point of Games celebrations in the city.
'Lamp post flags'
Each display will be sited above the fountain on the lawn in front of City Hall, with the rings in the traditional Olympic colours of blue, black, red, yellow and green.
A spokesman for Locog said the body had a "look book" from which host venues from Weymouth to Glasgow could pick and choose the Games-related branding it wanted.
He said: "It's a menu of different things they can do. It's a range of things from lamp post flags to massive things like wrapping a building."
The city's central area conservation group, which last year objected to the annual Christmas fair and ice rink being sited outside City Hall, said it considered the proposal acceptable.
The £300,000 cost of the rings and agitos will be met by the Department of Culture, Media and Sport (DCMS) and not by Cardiff council.