Post Office Locals spark Consumer Focus Wales concern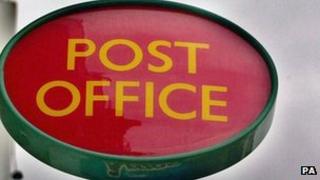 Improvements are needed to new-style post offices being piloted in Wales, according to a consumer group.
Post Office Locals offer some of the core services of a traditional post office but are typically run out of shops or petrol stations.
Consumer Focus Wales says they could help secure the post office network in rural areas, but there is confusion about what services are available.
The Post Office responded by saying it would study the report.
There are six Post Office Locals being tested in Wales but many more could be introduced.
They offer core services such as sending general post, pension and benefit withdrawals and paying most bills.
Typically, they offer longer opening hours but not the full product range offered by traditional sub-post offices such as paying paper utility bills or making cash deposits with a paying-in book.
In its report Staying Local: the Future of the Post Office Network, the consumer watchdog found that while there were clear benefits, some customers also had concerns.
There were privacy issues due to not having dedicated post office counters and there were also concerns about whether some staff were capable of more complex transactions such as mailing heavy parcels.
Rebecca Thomas, post specialist at Consumer Focus Wales, said: "Before PO Locals are rolled out across Wales, it is crucial that the Post Office delivers a model that meets its customers' needs, both now and in the future.
Friendly service
"Our research highlights important plus points but also warning lights which must be urgently addressed.
"This is a major shift away from traditional sub-post offices.
"PO Locals have the potential to offer the consistent and reliable service that consumers rely on - but there are many areas that need to see improvement."
Consumer Focus Wales says as many as one in five dedicated sub-post offices may be replaced with a PO Local.
Post Office spokesman Heulyn Gwyn Davies said the research was to be welcomed.
"This report, and others compiled recently by the consumer body, recognise that customers using our new-style branches are really welcoming the longer opening hours, convenience and friendly service on offer," he said.
"Feedback from these pilots from both customers and sub-postmasters is helping to shape our thinking in advance of developing these models so that they can be available more widely after summer 2012 in places where they can enhance customer service and promote greater sustainability of the Post Office."