Oil thefts up 500% across Wales in five years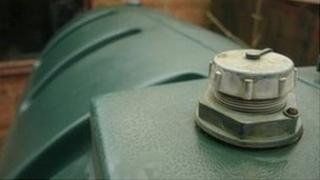 Thefts of heating oil around Wales have increased by over 500% in the past five years, BBC Wales has learned.
Figures show the equivalent of a theft of oil every day by the end of 2011.
The numbers jumped from 68 in 2007 to 364 last year, according to the statistics released under a Freedom of Information request.
An insurance expert said the rise in thefts was almost certainly linked to the high price of heating oil, which should be treated "like liquid gold".
The figures across all four forces show the same broad pattern, with a very sharp spike in figures from 2007 to 2008.
The number of thefts then fall somewhat in 2009 before steadily rising over the next two years.
Nicola Whittaker, rural affairs specialist from insurance firm NFU Mutual, told BBC Wales the rise in crime statistics was reflected in the number of claims they were seeing from farmers and rural homeowners.
"It did really start to increase towards the end of 2010 because the price of oil increased by about 70%. That trend continued into 2011," she said.
"We insure 70% of UK farmers so we were seeing a lot of oil going missing from farms and homes in rural areas.
"It tends to be a rural problem as they are the ones not on the gas mains supply."
Ms Whittaker said that while in general more businesses were targets of oil theft across the UK, in Wales more homes had been hit.
The cost of heating oil rose from 41p per litre in September to 71p in December, which coincided with the coldest weather in the UK for 30 years.
Customers looking for delivery in the Swansea postcode area would currently pay around 60p per litre for a delivery of 1,000 litres.
'Lucrative commodity'
Ms Whittaker added: "We often experience a spike in the number of reported incidents of oil being stolen from people's tanks when the cost of the commodity rises. We last saw this in 2008.
"Heating oil is a lucrative commodity for thieves when the market value peaks; as such we are advising people to treat their supply like liquid gold."
Ms Whittaker believes the actual number of thefts is much higher than reported, as many people may just assume they had less oil left than they had thought.
"The only people who are sure are those who have just a 1500l delivery and it's all gone, or if there is damage to the tank," she explained.
A large amount of the crimes are believed to be carried out by organised criminal gangs, who check out properties in advance, sometimes following delivery tankers to identify targets or making visits to farms under false pretences during daylight hours.
They then return at night and steal the oil.
Not all the police forces were able to provide values for the amount of oil stolen, but as an example in the Dyfed-Powys area, the recorded thefts which had a value attached to them totalled £135,000 over the five-year period.
Ms Whittaker pointed out that in addition to the cost of losing the oil, there could sometimes be substantial clean-up costs because of environmental pollution in cases where the oil was spilled or the tanker cut open.
The Rev John Bernard Jones, vicar at St Mary's Church, Treuddyn, and St Mary's at Nercwys, in Flintshire, has lost more than 1,000 litres in several thefts since 2010.
He said: "My churches were hit. One was hit twice and one was hit three times for oil theft at the worst time of the winter really."
He added: "Obviously, we have had to invest in security measures, which is money we could well do without spending."
He said police patrols had been stepped up following the thefts, adding: "I think word has got around and people are looking out for each other, which is an excellent thing."
The data provided may have been recorded in different ways by the four police forces.