Bogus cancer therapist Reginald Gill and wife guilty of sex assault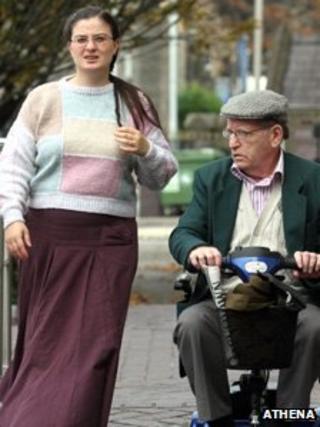 A bogus therapist and his wife who told women they could diagnose and treat cancer have been found guilty of sexual assault and fraud.
Reginald and Leila Gill claimed to offer therapies for women at their home in Cwmduad, Carmarthenshire, despite not being medically trained.
Mr Gill, 77, was found guilty of nine sexual offences and two fraud charges at Swansea Crown Court.
His wife, 35, was found guilty of one count of sexual assault and fraud.
They have been bailed for sentence at a later date.
The pair, who were first exposed on the BBC Wales consumer programme X-Ray, had pleaded not guilty.
The jury took an hour and a half to reach a unanimous verdict.
Electric shocks
The court heard that Mr Gill sexually assaulted two women and told them they had cancer, then told them he could treat the disease.
Later tests by qualified doctors showed that neither woman had ever had signs of having cancer.
During the trial, the jury heard video evidence from a woman who said she had been sexually assaulted by Mr Gill minutes after he had told her she had cancer.
The woman, who cannot be named for legal reasons, had gone to the Gills' house with a friend who was seeking treatment for arthritis.
The victim, who had experience of and was interested in alternative therapies, told the court that Mr Gill had examined her internally before telling her she had cancer and that he could "get rid of most of it today".
He then inserted an instrument inside her which gave her electric shocks.
The court was told that after 20 minutes Mr Gill removed the machine and he and Mrs Gill rubbed oil on her chest before using another machine on the same area.
Initially the victim had told police that she didn't think Mr Gill was getting any sexual gratification but she later said his heavy breathing suggested he was.
After the guilty verdicts, the court was told that Mr Gill had previous convictions under the Consumer Protection Act from 2004, in Bournemouth, when he told a cancer patient to cease conventional treatment and be treated by him instead.
'Exposed by programme'
The couple's lies had been exposed by the BBC Wales consumer programme X-Ray, with evidence gathered given to police who later arrested the Gills.
Last March, a member of the programme team telephoned the couple's clinic at their home and told Mr Gill she was concerned she may have bowel cancer.
He told her that cancer was "easily dealt with" and urged her not to have a biopsy because it would spread the disease, saying "you'll probably end up with ovarian cancer as well. Don't do it, come and see me".
He said that if she spent three days with him she would be both educated and "treated".
X-Ray sent two members of the production team to gather undercover footage of his fraudulent claims that he could diagnose and treat cancer.
Mr Gill used an unlicensed ozone therapy machine, known as an IFAS machine, on one of the researchers - the same one used on the victims in the recent trial.
He told the researcher that because the device lit up, she did have cancer - which was untrue.
Despite his claims to have been an army doctor, Mr Gill was in fact in the catering corps and has no medical qualifications.
He was committing an offence under the Cancer Act 1939, which makes it illegal for an unqualified person to offer to treat any person for cancer.
Following the broadcast of X-Ray's report in March 2011, evidence was submitted to Dyfed-Powys Police.
Two of Gill's female 'patients' were then interviewed by police and subsequently, Reginald and Leila Gill were arrested at their home.
'Rare case'
Dyfed-Powys Police officers who investigated the claims welcomed the verdict following the court case.
"Mr and Mrs Gill falsely claimed that they could diagnose and treat cancer," said Det Insp Steve Cockwell.
"They used this to sexually assault the two victims and for financial gain.
"The victims have displayed extreme courage in reporting this matter and by giving evidence in court and have exposed Mr and Mrs Gill as fraudulent practitioners of alternative medicine.
"Thankfully a case like this is extremely rare in Dyfed Powys, but any claims of sexual assault are taken extremely seriously by the force and investigated fully."
A new X-Ray report on the bogus cancer treatments will be broadcast on Monday, 13 February, BBC One Wales, 19:30 GMT.