Principality Building Society profits fall to £24.5m, but mortgage lending up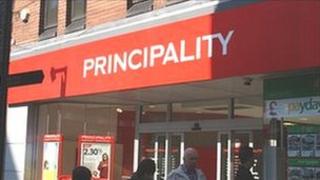 The Principality Building Society has reported pre-tax profits of £24.5m, down £6.3m from the previous year.
But the Cardiff-based group says mortgage lending was up 6.5%, taking loans over the £1bn mark.
Chief executive Peter Griffiths said the fall in profits was down to a squeeze in margins and extra investment in online technology.
He said the profits were still strong and proved the mutual lender's resilience to tough market conditions.
The Principality is the largest building society in Wales with 52 branches.
Figures show that during 2011 it attracted more than 38,000 new customers.
Mr Griffiths told BBC Radio Wales: "As a mutual we are not driven by profits - we don't have to pay a dividend to shareholders because of course they are our members so we can take a different view.
"Most people are shrinking their balance sheets right now... in a market where most people have been shrinking their way to success we've been growing.
"We have lent £1bn this year and one in five of our new loans were to first-time buyers so that helps to stimulate the market as well."
He predicted 2012 would be a "challenging and testing market" but that the society would have a similar performance to last year.
Mr Griffiths said the Principality was not planning for any interest rate changes during the year.
He also expected inflation to be in line with Treasury forecasts.