Wales university applications down by 9.3%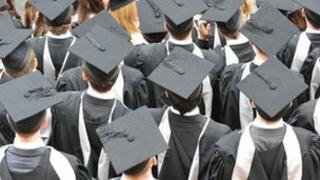 The number of applications to Welsh universities for 2012 has fallen compared to the previous year, official figures from Ucas have shown.
Following the deadline on 15 January, the numbers received were down by 9.3% on 2011 figures to 60,527.
Across the UK, applications were down by 8.3%, which is partly explained by a drop in interest from mature students.
The number of Welsh students applying to university in any location was also lower by 1.9%
The Welsh government said it was "sticking up" for students and was committed to helping them wherever it could and had put in place what it believed to be "the most equitable student finance system we've ever created".
According to Amanda Wilkinson, director of Higher Education Wales, the number of applicants by the January deadline, although down on last year, was still higher than in 2009.
She said: "It is clear that students in Wales and indeed across the UK have been taking more time this year to consider the options available to them in light of the new fees arrangement.
"Applications will continue to be accepted up to 30 June 2012, so we will need to continue to ensure that nobody who could benefit from higher education is missing the opportunity due to a lack of clear information regarding the support on offer and the particular benefits of study in Wales."
Ms Wilkinson added it was unlikely there would be any unfilled places in Welsh universities this year but there may be fewer unplaced applicants.
Proportionately, Wales has had the highest fall in university applications of any nation in the UK.
There was a 12.3% fall from English applicants to 36,195, just over half of the total applications to Welsh institutions.
Scottish numbers were down 39.5% and Northern Irish 15.3%, with Welsh applicants dropping by 4.5%.
Although EU applicants were also down by 13.2%, numbers rose significantly from outside the EU by 12%.
'Half-baked'
Tuition fees for English universities are to triple to a maximum of £9,000 per year for the coming academic year.
However, the Welsh government has pledged to pay the increase for Welsh students wherever they choose to study.
Conservative education spokeswoman Angela Burns AM suggested the Welsh government's tuition fees policy relied on numbers coming to study in Wales from England.
"These figures cast a worrying shadow over the headline-grabbing, wafer-thin tuition fees policy," she said
"This is a half-baked scheme balanced precariously on the cross-border flow of students and today's figures should act as another sobering wake-up call for the minister."
Education experts had warned that changes to fees could have an impact on application rates.
'Pledged'
Speaking about the overall UK drop, Ucas chief executive Mary Curnock Cook suggested population changes could also be a factor in the fall.
A spokesperson for the Education Minister Leighton Andrews said the Welsh Conservatives should remember that the people of Wales roundly rejected their education proposals, which would have forced students to pay the top rate of fees wherever they studied and would have cut education spending by 20%.
"People backed Welsh Labour's plans because they are fair - we believe in education for all, not just for all that can afford it.
"Clearly, we expect that these early stage figures will fluctuate month by month. It is notoriously difficult to estimate some of the issues around the cross-border flow of students, but the Welsh government has pledged to ensure that Welsh students do not pay higher fees wherever they study, and we are confident that we can achieve that.
"As we've said on numerous occasions this scheme is fully costed and sustainable until 2016/17."
The spokesperson said no student would pay more this year for their higher education than they did last year.
The University of Glamorgan were reporting applications were up by a quarter and Aberystwyth University was reporting a record year for applications, while Higher Education Wales said it was unlikely there would be any unfilled places in Welsh universities, added the spokesperson.