Waste plant plan opponents to give evidence at assembly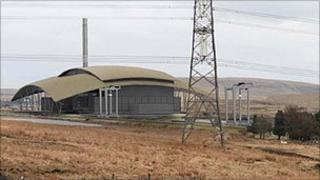 Opponents of plans to develop waste incinerators around Wales have welcomed the opportunity to put their arguments in person to assembly members.
The National Assembly's petitions committee is conducting an inquiry after receiving three separate petitions.
They are opposing energy from waste plants planned in south east and north Wales.
Committee members have said they will call on all sides to give evidence.
Those for and against the plans will give oral evidence on the advantages and disadvantages of incineration and the best way to dispose of non-recyclable waste.
The prospect of energy from waste incinerators has its roots in the Welsh government's waste strategy, entitled Towards Zero Waste, which sets out ambitious targets.
By 2025, ministers want 70% of waste recycled and the residual waste that is left phased out of landfill, which is set to attract increasingly punitive taxes as part of a drive to cut the amount of greenhouse gas emissions produced by tips.
To deal with the 30% that councils are not able to recycle and will not be able to landfill from 2025, local authorities are forming regional alliances across Wales to bring forward household residual waste projects.
The most advanced scheme is Prosiect Gwyrdd, which brings together five councils in south east Wales.
It hopes to make a final choice between two rival proposals - one for Splott in Cardiff and the other for Llanwern on the edge of Newport - by the end of the year.
Close behind is the North Wales Residual Waste Treatment Project, also involving five councils, which has whittled its list of potential providers down to three.
It will invite final tenders from two of them later in the year.
Again the choice is between energy from waste solutions.
High temperature
The emergence of energy from waste as the likely solution for almost half of Wales' local authorities has dismayed both local communities and eco-campaigners.
Haf Elgar, a Friends of the Earth Cymru campaigner, told BBC Radio Wales' Eye on Wales programme: "We're concerned that incineration is really on old technology.
"It essentially takes black bin waste and burns it at a high temperature.
"We believe that's wasteful because other technologies can sort waste and make the most of recycling and re-using valuable materials that are just burnt in incineration.
"Most of the carbon is released into the air as carbon dioxide. Also other particles are released which can be harmful to the environment and can cause air pollution."
But, according to project director for Prosiect Gwyrdd Mike Williams, local residents living close to sites where energy from waste plants are being proposed should not have any concerns over their health impact.
'Clean, safe technologies'
"Emissions from these facilities are the tightest and most regulated and enforced across Europe," he said.
"We follow advice from the Environment Agency and the Health Protection Agency who are very confident that these are clean, safe technologies.
"So we don't think people have anything to worry about from the emissions from these plants."
Veolia Environmental Services is one of the two firms competing for the 25-year Prosiect Gwyrdd contract and is currently seeking planning permission for a plant on a site at Llanwern near Newport.
Executive director Robert Hunt is confident that the emergence of energy from waste schemes will not damage rising recycling rates in Wales, which hit a new high of 49% in the most recent figures.
"The project is not in any way to prejudice or diminish very important recycling initiatives, but to provide a solution for those wastes that you can't recover, can't recycle or can't re-use. And there will be those wastes," he said.
But Rob Hepworth, chair of the Stop Newport Incinerator Campaign, remains to be convinced and has welcomed the Petitions Committee's decision to hold hearings into incineration and its alternatives.
"We absolutely welcome the opportunity to have this debate so we can explore the Welsh dimension to this problem," he said.
"It's not too late for Wales to be the greenest waste processor in the United Kingdom rather than, as I fear, turning out to be the dirtiest."
Eye on Wales is on BBC Radio Wales at 13:00 GMT on Sunday.