Concern at £3m cut in bus service funding throughout Wales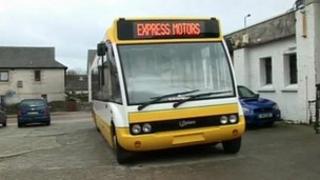 Bus companies and councils across Wales have voiced concern after the Welsh Government said it is to cut £3m from its local transport subsidy.
The Welsh Local Government Association (WLGA) said the severity of the cuts, from £11m to £8m, was unforeseen.
Bus operators warned the changes could mean less well used routes seeing services cut.
The Welsh government said the decision was taken within the tight spending plans of its budget.
Kevin Wyn Jones, from Express Motors in Penygroes in Gwynedd, said the cuts were more than had been anticipated, and they had also been announced too late as companies had already planned for the next year.
He warned that the services which would be most affected were those where the councils paid towards them, such as evening services, or routes which provided a lifeline to remote rural villages.
"A cut of one bus every quarter of an hour in a town won't make that much difference, but when a bus service of once every hour, or two hours, is cut to a small village it means a lot to local people," he said.
It will put bus companies back 10 years, and investment in new technologies - such as bus timetables to mobile phones - will stop, he predicted.
The WLGA issued a response on behalf of councils in Wales.
It called the move disappointing, adding "the severity of the cuts was unforeseen and local authorities are now warning that the effect on services is likely to be severe".
"Bus companies and councils in England have been given 18 months to prepare for a 20% reduction starting in April. In contrast, Welsh councils will suffer a 25% cut with just three months' warning," the WLGA said.
The Welsh government responded by saying that it understood the concern about the reduced funding available.
"The minister with responsibility for transport has had to make some very difficult decisions across all his transport programmes to stay within the very tight spending plans set out in the Welsh government's published budget," said a spokesman.
"We would encourage bus operators and local authorities to work closely together to help mitigate the impact of any cuts in services on passengers and to look at innovative ways to plan and deliver services to meet the needs of local communities."