'Huge interest' in Peacocks say administrators KPMG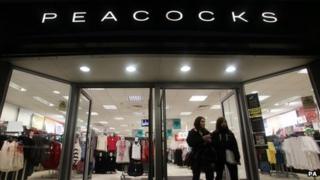 Administrators of clothing retailer Peacocks say there has been "huge interest" in buying the chain.
The group went into administration last week, having failed to restructure a key £240m part of its total £750m debt.
About 250 staff at the group's Cardiff HQ lost their jobs following the move.
Administrators KPMG said it was hopeful of finding a buyer "for all or a substantial portion of the business on a going concern basis".
It said it had held more than 100 conversations with potential buyers in the first 48 hours, adding that Peacocks had a strong customer base and sales were strong.
Chris Laverty, joint administrator and restructuring partner at KPMG, said: "We have received huge interest from potential acquirers of Peacocks, following our appointment last week.
"We had over 100 conversations with interested parties looking at either acquiring the whole business or parts of the business in the first 48 hours alone.
"Whilst the capital structure was not sustainable, the underlying business has a loyal customer base evidenced by strong sales levels in store since our appointment."
David McCorquodale, corporate finance partner, added: "We are in discussions with both trade and financial investors considering the acquisition opportunity.
"What is clear is that the Peacocks brand and extensive geographic footprint remain attractive.
"Therefore, we are hopeful of finding a buyer for all or a substantial portion of the business on a going concern basis.
‪"We will move quickly to protect value and have set up data room facilities for bidders to review Peacocks' financials, with initial offers required in short order."
Exchange goods
KPMG has already said shoppers who want to exchange goods bought at Peacocks can do so.
On Wednesday, it said items bought within the last 28 days in a UK Peacocks store could be exchanged with a valid receipt.
However, refunds could not be offered or vouchers accepted.
The administrators said they made the decision to allow exchanges after having had several days to assess the stock available across the network of more than 600 stores.
Before entering into administration Peacocks employed more than 400 in Cardiff and over 9,000 others across the UK.
The administrators said all stores would continue to operate as usual.
On Monday, Yorkshire-based fashion chain Bonmarche, part of the Peacocks Group, was bought for an undisclosed sum by private equity group Sun European Partners.