Hain says 'best job' was NI Secretary role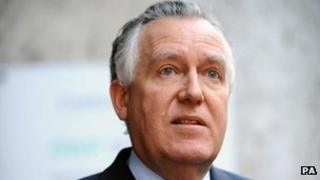 Labour MP Peter Hain has said his role as Northern Ireland Secretary was "probably the best job I did".
Mr Hain was speaking to BBC Radio Ulster's Talkback programme on Monday, after his autobiography, Outside In, was published.
He was Northern Ireland Secretary from May 2005 to 2007.
According to newspaper reports, Mr Hain said he felt physically threatened by Sinn Fein at one meeting and described David Ford as "pernicky".
In his book, he is quoted as saying Alliance leader Mr Ford was the "least flexible of them all."
However, Mr Hain, who is now shadow Welsh secretary, told the BBC he had simply tried to be fair to everyone.
"If you write a book you should try to be honest about things, even if that means saying something which people find uncomfortable," he said.
Mr Hain added that Mr Ford was "doing a really good job as justice minister".
The 61-year-old was at Northern Ireland's helm during the crunch talks that led to the restoration of devolution in 2007.
Recalling the tough negotiations, Mr Hain said the Alliance leader and his party felt that they were not brought into the fold sufficiently.
"The truth is the deal needed to be struck between Sinn Fein and DUP so that inevitably meant other parties - Alliance, SDLP - were the next in line, rather than the prime source of brokering the deal," he said.
According to reports, Mr Hain, also had to mount a charm offensive to win over the former DUP leader, Ian Paisley.
But he told the BBC he found him to be a "marvellous, old gentleman with very traditional manners", adding: "We got on famously".
"I thought the DUP had never really been given the respect they were now at least, if not before, certainly entitled to," he said.
He also had praise for Sinn Fein's Martin McGuinness and Gerry Adams.
"There was a great deal of leg pulling, as well as hard negotiations," he said.
Mr Hain said when he took up the job in May 2005 there was a great deal of pessimism, given that the Ulster Unionists had been reduced to one MP at the general election, and Sinn Fein had "vanquished the SDLP".
But he said, despite his wife's misgivings, he was "thrilled" to be offered the job of Northern Ireland Secretary.
"It was a big job. It seemed to fit all the experience and skills and background, both my work in South Africa as a young man, and also my experience in foreign office, to try to solve difficult problems.
"I just loved the job. It's probably the best job I did in the cabinet.
"I really liked the people, whether they were coming from whatever side of the divide. There's a warmth and decency about the people of Northern Ireland regardless of the sectarian politics, which I really related to."