Doctor Who's Russell T Davies creates new CBBC TV series Aliens Vs Wizards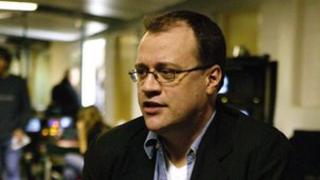 Doctor Who writer Russell T Davies is returning to children's TV with an action adventure drama for the BBC.
Aliens Vs Wizards will be filmed for CBBC at the new BBC Wales drama studios in Cardiff Bay.
The Swansea-born dramatist said: "Writing for children is the biggest challenge of all."
It will be the first new series from Davies since he returned to the UK from Hollywood last year after his partner was diagnosed with brain cancer.
The new series has been created with Phil Ford, who worked with Davies on Doctor Who and children's spin-off The Sarah Jane Adventures.
Science and magic
Aliens Vs Wizards tells the story of two 16-year-old boys - a secret wizard and his scientist friend - who challenge the attempts of aliens to destroy the earth.
"Writing for children is the biggest challenge of all and I think CBBC stands right at the heart of broadcasting," said Davies.
"So I'm delighted to launch this show, a true nationwide collaboration - a Salford commission from a BBC Wales team.
"We're joining genres too - the show's a wild, funny, thrilling and sometimes scary collision of magic and science fiction."
Faith Penhale, head of drama at BBC Cymru Wales, said: "We're so excited to be working with Russell again on this ground-breaking and hugely ambitious drama for CBBC."
Davies began his career in children's TV, writing and producing dramas such as Dark Season for BBC One and Children's Ward for ITV, before moving onto a series of adult award-winning dramas including Queer as Folk and Casanova.
In 2005 he brought Doctor Who back to the BBC after a 16-year hiatus and, as executive producer, oversaw the production of spin-off series Torchwood and The Sarah Jane Adventures.
The success of those series prompted Davies to move to Hollywood in 2009 to develop new projects.
But he returned to the UK in 2011 saying he was putting his career on hold after his partner Andrew Smith was diagnosed with brain cancer.
Aliens Vs Wizards will be a series of 12 half-hour programmes produced by BBC Wales in association with FremantleMedia Enterprises for broadcast on CBBC in autumn 2012.