Prime Minister David Cameron's birthday tribute to Urdd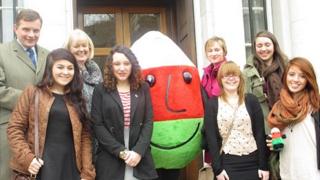 Prime Minister David Cameron has paid tribute to Welsh language youth organisation Urdd Gobaith Cymru on its 90th birthday.
Mr Cameron said it had "captured the imagination" of young people and built pride in the language and culture.
Five children from Wales visited the Wales Office on Monday before attending a reception at Downing Street.
The Urdd was set up in 1922 to give children the chance to learn and socialise through the medium of Welsh.
Mr Cameron said the organisation, which has 50,000 members, gave opportunities to children from "all walks of life".
He added: "Since its early days, the movement has been at the heart of building pride in the Welsh language and culture.
"The three activity centres in Glan-llyn, Llangrannog and Cardiff give children and young people the opportunity to form lifelong friendships and immerse themselves in the language.
"I would like to thank everyone involved at Urdd for all their hard work, and I warmly wish the Urdd all the best for the future on this milestone birthday."
Urdd chief executive Efa Gruffudd Jones took members Rhiannon Hincks, from Ysgol Penweddig in Aberystwyth; Sian Elin Williams, from Ysgol Llambed in Lampeter; Sioned Evans, from Ysgol Bro Myrddin in Carmarthen; and Efa Dafydd and Martha Grug Rhys, both from Ysgol Maes yr Yrfa in Llanelli.
They visited the Wales Office to meet Secretary of State for Wales, Cheryl Gillan, at Gwydyr House, Whitehall, and then have their photograph taken outside 10 Downing Street.
'Great experience'
Mrs Gillan said: "Thanks to the Urdd, generations of young people have had an opportunity to engage in a range of artistic and creative activities through the medium of Welsh.
"They have inspired an impressive alumni, with the likes of Bryn Terfel, Matthew Rhys, Cerys Matthews, Aaron Ramsey and Shane Williams having all been members."
Schoolgirl Rhiannon Hincks added: "This is another great experience offered to us by the Urdd."