Brecon Beacons filming approved among James Bond Skyfall speculation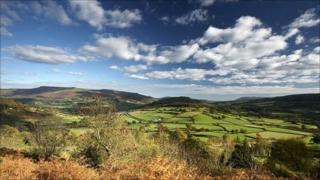 A film company has taken a step closer to using the Brecon Beacons as a location for a movie it wants to keep under wraps.
There has been speculation the filming is for the new James Bond movie, Skyfall.
The area's national park authority, meeting in Brecon, cleared a request to film on Mynydd y Llan near Llandovery.
Any location work would have to be approved by the Welsh government, which has 21 days to respond.
The film company, which has not declared its identity or details about the film, says it intends to bring in 200 people for the production near Myddfai, Carmarthenshire.
It says it would need access to the land for a period of three months and permission to create a chapel and manor house. Filming would take place over three weeks.
The agent for the film company says spending of more than £1.4m locally is possible.