Welsh newspapers face £1m adverts cut, says Evening Post editor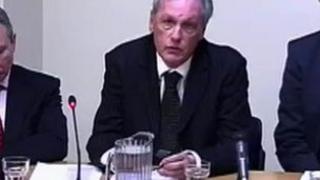 Welsh newspapers will lose £1m a year if councils are allowed to stop using them to publish statutory notices, the inquiry into media ethics has heard.
Spencer Feeney, editor of the Swansea-based South Wales Evening Post, was giving evidence to the Leveson inquiry.
The Welsh government has proposed the move as a way of funding free blue parking badges for disabled people.
Mr Feeney said public sector bodies increasingly only used their own websites to advertise available jobs.
He was among four regional editors speaking to the inquiry, which was set up following revelations about phone-hacking.
The inquiry heard that the regional press was facing a series of challenges, with both print circulation and advertising revenue falling.
Big employer
Advertising provides a much bigger proportion of the revenue of regional newspapers than their national counterparts, the hearing was told.
Mr Feeney said: "The general picture is over the last five years advertising revenues in the regional press have about halved."
He said the public sector was a big employer in Wales, and about half of his readers worked in the public sector.
Mr Feeney told the inquiry he was at a meeting last week which discussed the proposal by Welsh ministers to remove the statutory obligation on councils to place their road traffic orders in local papers.
He said: "If that comes into law in Wales, then the regional press in Wales will lose an additional £1m a year revenue".
Welsh government sources last month acknowledged the idea would be controversial if it deprived newspapers of a source of valuable advertising income.
It proposed the idea as way of funding the badges. In England and Scotland local councils can charge up to £10 and £20 respectively.