London 2012: Sculptor's race to finish statues for Olympic opera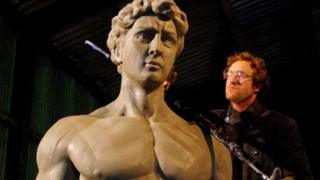 A sculptor is facing a task of Olympic proportions, completing four large bronze statues for an opera about the ancient games.
Nick Elphick, from Llandudno, Conwy, was asked to sculpt Greek Olympic figures for the Garsington Opera in June, weeks before London 2012 opens.
It is based at the home of the late philanthropist Sir Jean Paul Getty II.
Mr Elphick said he was working 16-hour days because it was "one of those things you can't turn down".
Each June and July, the annual Garsington Opera - based at Wormlsey, the Getty family home, near Oxford - stages an opera festival.
One of this year's productions is Vivaldi's L'Olimpiade, for which Mr Elphick was commissioned to create the 16ft (4.9m) statues, which will be cold-cast in bronze.
He said it was a "fantastic honour", but added: "I would normally want about three months on each figure, but I have got three weeks.
"I'm going to have to work nights. I'm working 15 or 16 hour days at the moment, but it's one of those things you can't turn down."
The opera is set near Olympia on the day of the ancient games, and organisers say the statues will form an integral part of the set's design.
It will be staged weeks before the opening of the London 2012 Olympics.
Mr Elphick has completed one statue, which has been packed into a crate, and he hopes to have the remaining three ready for viewing within three months.
He said it was "particularly exciting" to be involved in the project when the eyes of the sporting world will be on the London Olympics.
He added: "The vision the team have for their production this summer is incredible and it is an amazing project to be working on."
Last year, the artist completed a statue of explorer Henry Morton Stanley, which was erected in his home town of Denbigh.
He has also created a five-foot (1.5m) high bust of the Queen to celebrate her golden jubilee.
David Roger, the production's designer, said: "Nick stood out for me as the very best choice amongst artists working in Britain today who could produce totally authentic large scale sculptures of the classical Greek school, combining a heroic authenticity with a theatrical flair that will be both beautiful and imposing.
"I feel very fortunate in gaining his collaboration on this project which I know has fired his imagination.
"He is bringing a huge amount of passion to the work and we are all looking forward to the arrival of these dramatic pieces."