Peacocks debts: Welsh and UK business ministers in contact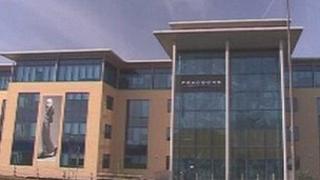 Welsh Business Minister Edwina Hart says she is in contact with her UK counterpart over the threat to Cardiff-based clothing retailer Peacocks.
Mrs Hart spoke in response to an urgent question from the Conservative assembly group leader Andrew RT Davies.
The minister said it was important to recognise that Peacocks is a company which is making a profit.
Peacocks, which employs more than 400 in Cardiff and 10,000 more across the UK, is in talks over its £240m debts.
The firm's future was discussed in the Senedd on Tuesday afternoon.
Mrs Hart, who said she was contacting UK Business Minister Mark Prisk, told AMs: "We also understand, of course, that there are talks going on regarding Peacocks with their bankers - and I use the plural on this.
"I have taken the opportunity for my officials to be in contact with principal lenders at regional level and there will be contacts also at national level."
She added: "There are other underlying issues regarding the financial packages it is looking towards the banks to provide.
"I think we have to be very hopeful that hey can conclude arrangements that will allow the company to maintain its jobs and its position within the market.
"However, we have been in contact with the React team and they are on standby in case any announcement of administration is made."
React is the Welsh government team to address the needs of people made redundant or facing redundancy.
Several AMs sought to draw the minister on the role which the Royal Bank of Scotland, as one of Peacocks lenders, has played in relation to the clothing company.
Plaid Cymru's Leanne Wood pointed out that RBS appeared to be "calling time on Peacocks" three years after the bank received "billions of pounds of taxpayers' money".
Hedge funds
Mrs Hart declined to be drawn on what she called "commercial matters for the company to discuss with its bankers".
She said: "A lot has been spoken about the involvement of RBS but there are other financial institutions involved in this and I would like to clarify all that before I give an unguarded comment to the chamber."
Cardiff North Labour AM Julie Morgan asked whether Mrs Hart was frustrated that "a profitable company which is also progressive in making fashionable clothes available to the mass market" had been brought "to the brink of insolvency" following its acquisition by hedge funds.
Mrs Morgan said: "It was overloaded with too much debt when it was taken over by the hedge funds several years ago."
In answer, Mrs Hart said it was important to remember that it is in the interests of all Peacocks' lenders to find a suitable solution to the company's problems.