Scott centenary: Appeal to shed light on Pole letters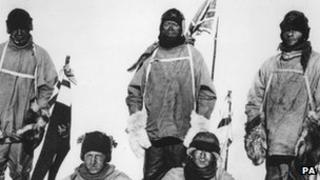 On the 100th anniversary of Captain Scott reaching the South Pole, the Glamorgan Archives in Cardiff are appealing for information to solve a mystery surrounding their Antarctic collection.
In 1986 the archive, which keeps documents of historical value on behalf of councils throughout south Wales, was presented with letters from the Terra Nova, written by Scott's brother-in-law, Wilfred Bruce, to a Lillian Knowles.
Whilst there is plenty of detail about Bruce - the brother of Scott's wife Cathleen Bruce and a member of the polar expeditionary party - nothing whatsoever is known about Ms Knowles, or the relationship she had with Bruce.
The letters were donated to the Glamorgan Archives by the Cardiff-based Captain Scott Society, which inherited them from the Knowles family estate - but there is no explanation of why Bruce was writing to Ms Knowles.
Several mishaps
"The letters really are something of a mystery. They make no mention of the relationship between the two, and there's no evidence in them of Lillian ever having written back," said Rhian Phillips, of Glamorgan Archives.
"But they must have been cherished, because they've been kept for all these years, and are in excellent condition considering their age."
The letters span the period from when the Terra Nova first docked in Antarctica in March 1911, right up until the mission headed for home in January 1913, following the discovery of the bodies of Scott and his four colleagues - Lawrence Oates, Edward Wilson, Henry Bowers and Edgar Evans - who died while returning to Terra Nova after being beaten to the Pole by Norwegian Roald Amundsen.
They are written on official polar expedition note paper, headed with an illustration of an Emperor Penguin.
In his early correspondence, Bruce describes what good spirits the party are in, despite several mishaps which could have scuppered the expedition.
He writes of how they were forced to bale out during a fierce storm en route from New Zealand to Antarctica.
Once they had arrived, he tells of the loss of their motor sledges, which fell through the sea ice while being unloaded on McMurdo Sound, as well as an attack by killer whales which almost cost the expedition's photographer, Herbert Ponting, his life.
But by 1913, the letters which carry the news of Scott's death are much less buoyant, though apparently no less passionate.
'Freezing hardship'
"One of the most frequent groups we have coming to view the letters are creative writing students, as Bruce describes the scenes so beautifully and narrates with such a distinctive voice," said Ms Phillips.
"Their tone is clearly friendly, but I wouldn't say they read like love letters at all.
"The thing I find most fascinating is that, in Cardiff in 2012, I can hold in my hand something which was written a century ago in the toughest conditions on Earth.
"Whoever Lillian was to Wilfred Bruce, he clearly cared a lot about her to carry on writing through almost two years of freezing hardship."
The Bruce letters are available to view at the Glamorgan Archives, and the researchers say they would be grateful for any information which may shed some light on Ms Knowles.