Organ donors: Two weeks for Welsh public to have say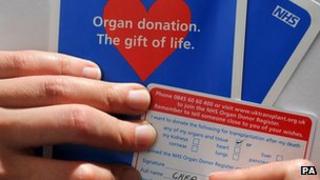 The people of Wales have two weeks left to have their say on introducing a system of presumed consent organ donation.
Since the Welsh government signalled its support for a change in law over four years ago, donation rates in Wales have risen to be among the best in Europe.
Some doctors question whether altering the current opt-in system, where potential donors have to join a register, would undermine progress.
But campaigners insist a change in the law is the only way to meet the continued shortfall in organs needed for transplant operations.
Consultation on the Organ Donation White Paper ends on 31 January, with public meetings taking place in Swansea and Newport this week.
The latest figures show Wales has reached a deceased organ donation rate of 27.7 per m people (pmp), compared to the UK average rate of 16.3 pmp.
It places Wales above many other European countries, including France (23.8 pmp), Italy (21.6 pmp) and Belgium (20.5pmp), which already has a system of presumed consent, according to figures for 2010.
"The work that we're doing with hospitals has shown a 50% increase in organ donation last year, and that increase continues," says Dr George Findlay, chair of the Welsh Organ Donation Implementation Group.
He said the improvement had been down to investing in a network of transplant co-ordinators in Welsh hospitals, and suggested a change in law was less of a priority.
"We're now one of the highest performing countries in Europe in terms of organ donation per million people, and we just need to see that good work carry on."
Some senior doctors go further, and are actively against introducing a system of presumed consent, where a person is assumed to agree to donation unless they have expressed otherwise.
While British Medical Association Wales has campaigned for the change, the chair of the Welsh consultants' committee, Dr Sharon Blackford, opposes the move.
'Fantastically good rates'
"It may be counter-productive," argues Dr Blackford.
"People may be slightly concerned that there's this presumption that their organs don't belong to them, but belong somehow to the government - it may put people off.
''We've already got fantastically good organ donation rates in Wales - they could be higher, but we're doing better than the UK average, and that's before any change in the law."
But her argument did not convince Melanie Wager from St Athan, who underwent her third kidney transplant in 2010.
"It has made such a difference - not only to my life but to my family's life as well," said Ms Wager, who believes a change in law would help the 300 people in Wales on a waiting list for a transplant.
"People will have their lives saved rather than die on the waiting list," she said.
''I do believe that there will be an increase in organs available - because it has been proven in other countries which have this legislation."
After the consultation ends, the Bill will be introduced to the Welsh assembly later this year or in 2013, although the new system would not take effect until 2015.