Sir Anthony Hopkins' classical music released on CD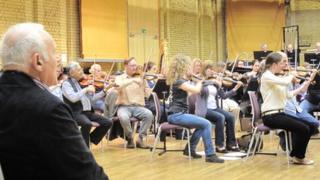 Hollywood star Sir Anthony Hopkins has finally seen his late mother's dream for him come true, as a composer whose works are performed by an orchestra.
He says he traces his life as a classical composer back to the age of six and was far more interested in music than acting as a Cardiff student.
Nine of his original works and film scores have been recorded by the City of Birmingham Symphony Orchestra.
They have now been released on CD through radio station Classic FM.
Sir Anthony, who had music lessons at his childhood home said his mother encouraged him from an early age.
He won an Oscar for his role in The Silence of the Lambs, but his mother had great hopes he would become a world famous pianist.
One of the pieces is called Margam, in tribute to his home town near Port Talbot.
Another, a waltz was composed in his spare time on the piano at the Liverpool Playhouse when he was performing there.
He said: "It comes quite easily to me, I don't have an academic background at all, so in a way I'm free to do what I like.
"I'm very pleased I've found an extra string to my fiddle.
"For years I mused and dreamt about turning my scribbled thoughts and bursts of melody into pieces of work to be performed by a full orchestra.
"It keeps me off the streets, it keeps me out of trouble in between jobs, and I'm very happy."