Gay cleric Jeffrey John may take legal action against Church of England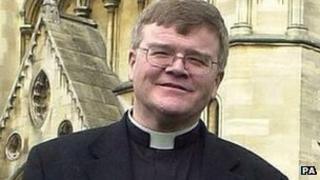 A friend of a gay cleric who is understood to have threatened to take the Church of England to court says he has been badly treated by his employer.
Dean of St Albans Jeffrey John, who is from Tonyrefail in south Wales, has twice missed out on becoming a bishop.
Reports suggest he is threatening to sue the church for discrimination.
Retired south Wales priest Martin Reynolds supports him, but legal action has been criticised by opponents. The church declined to comment.
In 2003, Dr John was forced to step down from becoming Bishop of Reading because of his sexuality after protests from traditionalists.
He was also a candidate for Bishop of Southwark in 2010 but was rejected. Evidence emerged that this was because of his sexual orientation.
Mr Reynolds said Dr John, who is a friend, had been badly treated by the Church of England.
"My view is that his own attempt to get to the bottom of this matter completely failed," he said.
"He was left with no other alternative to find the truth than to use legal proceedings."
Mr Reynolds, who lives in Newport and is an adviser to the Lesbian and Gay Christian Movement, said Dr John had never criticised the church publicly and had never complained about the issue to the press.
Last year the Church of England reviewed its policy towards same-sex relationships and considered allowing gay clergy to be ordained as bishops.
Legal advice published by the church said there was no bar to gay clergy becoming bishops as long as they were not sexually active and never had been while in the priesthood.
'Polarising prejudices'
The move was in response to the Equality Act, which protects from discrimination on the grounds of sexuality.
But the Reverend George Pitcher wrote in a column in the Daily Mail that Dr John's threat of legal action "threatens, in his impatience and ill temper, to put back the cause of homosexuals in the church by a couple of decades, maybe more".
"Dr John's putative litigation smacks of naked ambition dressed up as equality campaigning," he wrote.
He added: "His cause isn't served by taking the Church of England to court and polarising Anglican prejudices again.
"And he might acknowledge that bishops are appointed on their merits too.
"That won't change, though the bar on those in an openly gay relationship surely will."
The conflict over homosexuality and the ordination of gay clergy has been controversial within the Anglican church for years, with critics saying it may cause a similar breakaway to that in the US Episcopal Church.