Peacocks clothes firm plans to call in administrators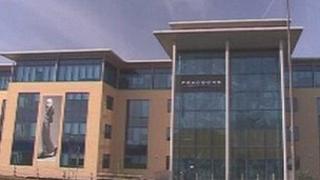 Clothing retailer Peacocks says it intends to call in the administrators after failing to restructure £240m of company debts.
The company employs more than 400 at its Cardiff HQ and nearly 10,000 more across the UK.
The firm has experienced spectacular growth over the past 15 years, but is saddled with debts dating back to a management buy-out.
However, it said discussions with other potential investors were continuing.
A spokesman said: "The board of the Peacock Group and its advisers have been discussing for some time the restructuring of the business with the group's lenders.
"Unfortunately these talks have now concluded and no agreement has been reached. However, discussions with other potential investors are ongoing.
"To protect the business whilst discussions with such investors are progressed, the directors of the Peacock Group have filed a notice of intention to appoint an administrator."
The spokesman said the existing management of the company remained in place as an administrator had not been appointed.
Chief executive and 30% shareholder Richard Kirk has led the company's transformation since buying out the Peacock family in the mid-1990s.
Profits grew tenfold in a decade as the business changed from a traditional women's clothing retailer to a fast-moving high street fashion name, competing with the likes of Primark and Top Shop.
The company has more than 600 stores and concessions in the UK, and 117 stores around the world. Its expansion into Russia and Eastern Europe was particularly successful.
It also bought the Yorkshire-based retailer Bonmarche 10 years ago. The parent company said it would seek a potential buyer for Bonmarche, which includes some 394 stores, but will appoint an administrator in the meantime.
During the fast expansion, the company floated on the stock market but Richard Kirk was unhappy with the share-price the company was getting and led a management buy out, with the backing of two US financial operations and the investment bank Goldman Sachs.
However that deal saddled the company with the debts that are at the centre of the current negotiations.
'Big blow'
The latest official results posted by Peacocks, covering the year to April 2010, show the group's stores made operating profits of £27m.
However that was reduced to a pre-tax loss of £56m as a result of £77m in bank loans and overdrafts.
It is unclear how the stores have done since then.
A spokesperson for one of its lenders, the Royal Bank of Scotland (RBS) told BBC Wales on Sunday night that it had been and would continue to be supportive of the company.
Cardiff West MP Kevin Brennan urged the UK government to intervene to protect the business and its jobs.
He said the company going into administration would be "a big blow" to Cardiff and south Wales and "highly damaging" to the Welsh economy.