Peacocks clothing chain: 'No comment' on administration reports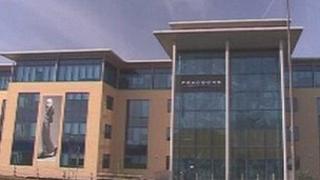 Clothing chain Peacocks has refused to comment on reports it faces possible administration.
The Cardiff-based firm, which has around 730 stores and employs around 450 at its headquarters, has been discussing its debts with equity and bond holders.
Independent advisors at KPMG are already reviewing the group's finances.
A company spokesman refused to comment on the newspaper report and said talks were "ongoing".
Around 400 staff work at the Cardiff headquarters, which has been the clothing group's base for 72 years.
The business was founded by Albert Peacock in Cheshire in 1884.
The chain, which runs 728 stores and concessions - 611 of them in the UK - reported a 17% rise in like-for-like sales over Christmas.
The Telegraph reports that the key issue at Peacocks is related to whether its banks, led by Barclays and Royal Bank of Scotland (RBS), were willing to take a loss on the debt they are owed.
The BBC understands the company is trading profitably and the issue relates to RBS withdrawing from talks.
A RBS spokesperson said that each company restructuring was judged on its own merits but the difficult conditions retailers faced was an important factor.
"We have been and continue to be supportive of the company," said the spokesperson.
"New investors willing to inject sufficient capital could not be found.
"If further funds are required then this is an issue for shareholders and for approval by a majority of the company's lenders."
A spokesman for Barclays said: "At every stage Barclays has been willing to support the management in the restructuring of the business."