Welsh politicians scrutinise Scotland referendum debate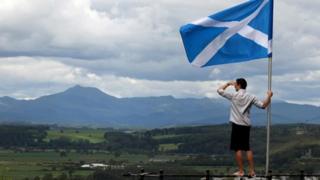 Politicians in Cardiff Bay are monitoring the implications of the debate about Scottish independence for Wales' constitutional future.
The Labour Welsh government says it would "greatly regret" any decision by Scotland to leave the United Kingdom.
But First Minister Carwyn Jones says that would inevitably have a knock-on effect for the rest of the UK.
Last March, Welsh voters supported the devolution of further powers to the Welsh assembly in a referendum though polls suggest that a large majority do not favour independence.
Scotland's First Minister Alex Salmond has said he will hold a referendum on independence in autumn 2014, but the UK government says any a vote would be unlawful without their approval.
'Democratic mandate'
The Labour government in Cardiff Bay opposes independence but it says a major change in Scotland's relationship with the UK would need "a radical reconsideration of Wales' constitutional relationships within a restructured United Kingdom".
It says that Scottish developments are being monitored closely in Cardiff.
At Westminster, Plaid Cymru's parliamentary leader has urged the UK government to let Scotland decide on its constitutional future.
Elfyn Llwyd MP said: "The Scottish elections gave Alex Salmond and the SNP a huge democratic mandate for their government and manifesto.
"Interference from Westminster on this matter is therefore unnecessary and unacceptable."
The debate about the prominence Plaid Cymru should give to its aim of Welsh independence is likely to be a major theme in the party's leadership contest, with the winner named in March.
'More federal UK'
Talking about the possible effects of Scottish independence on Wales' constitutional future is "jumping the gun" according to Welsh Liberal Democrat leader Kirsty Williams, who says the issue in Scotland is at the start of a long and complicated process.
She says she does not advocate independence but would like to see more power devolved from London and "a more federal United Kingdom where greater political and fiscal responsibility is handed over to the people of Wales, Scotland and Northern Ireland".
Andrew RT Davies AM, leader of the Conservatives in the Welsh assembly, said: "Welsh Conservatives want to see a strong Wales within the family of the United Kingdom.
"The debate over independence in Scotland is a timely reminder about how the nations of the United Kingdom are stronger when working together for the prosperity of the people."
The Silk Commission set up by the UK government is currently looking at the possible devolution of some taxation and borrowing powers to Wales.
But with a government in Cardiff Bay which is opposed to Welsh independence and little evidence of popular support for severing links with the rest of the UK, constitutional discussions about Wales remain very different in nature to the debate over Scotland.