Charity's mission to reduce stillbirth numbers in Wales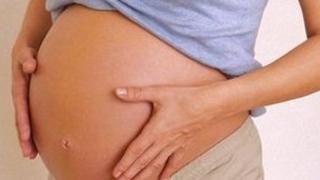 More needs to be done to reduce stillbirth rates in Wales, a charity will tell an assembly committee.
The Holly Martin Stillbirth Research Fund says stillbirths are more common than cot deaths in Wales.
The health and social care committee will hear stillbirth figures have hardly changed in more than 25 years.
The Welsh government said the trauma of stillbirth was "unimaginable" and its maternity strategy was committed to improving care.
The charity's founder Isobel Martin, who she lost her first baby 26 years ago, said a baby was stillborn in Wales "every other day".
Ms Martin, from Brecon, Powys, said everything was normal with her pregnancy up until 37 weeks, when she noticed reduced movement.
Her baby, Holly, died three days before her due date.
Ms Martin said: "I then had to go through 16 hours of labour and deliver a dead baby."
She said it was a "horrendous" experience, and there was no real help in coping.
Ms Martin added: "I set up the charity because Holly's been in my mind every day.
"It was her 25th birthday and I thought that was the right time to start to do something about it.
"When I looked into it the figures weren't much better from when I lost my baby.
"In Wales, there's a baby being stillborn every other day."
According to Stillbirth and Neonatal Death charity, Sands, more than 4,000 babies are stillborn (born dead after 24 completed weeks of pregnancy or more) in the UK annually.
In Wales, the most recent available figures from the Welsh government show there were 180 stillbirths in 2009.
Approximately 10 times more babies are stillborn than die of cot death every year in Wales, according to Sands.
Dr Alexander Heazell, a clinical lecturer in obstetrics at St Mary's hospital in Manchester, will also give evidence to the committee.
He said: "It's something people are quite reluctant to talk about, and because it's not talked about, people find it hard to warn parents to be aware of things like babies' movements.
"One of the great changes that Isobel and people like Isobel are bringing about is to discuss stillbirth and ways we might reduce it."
A Welsh government spokesman said: "The trauma of losing a child to a stillbirth is unimaginable, and we extend our sympathies to any family who has suffered tragic loss."
He said its maternity strategy set out the results it wants for women during pregnancy and childbirth.
"The effectiveness and quality of NHS maternity services clearly has a fundamental role to play in delivering these results.
"This document, and other work going on at an all-Wales level, also sets out our expectations of NHS Wales in transforming maternity services so a real difference can be made to families in Wales."
Ministers were committed to promoting the highest levels of quality of individual care for each woman.