London 2012: Cheryl Gillan promises 'tourism legacy' for Wales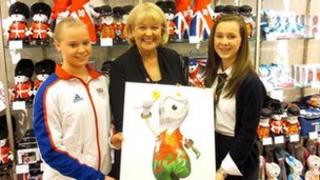 The Olympics will allow Wales to showcase its attractions as a visitor destination, leaving a tourism legacy behind, the Welsh secretary says.
Cheryl Gillan was visiting Cardiff on the 200th day before the London Olympics 2012 start in July.
She was meeting local businesses benefiting from the games as well as Welsh Olympic hopefuls.
Mrs Gillan started her visit outside the Millennium Stadium, which will host the football tournament.
She told BBC Wales: "We're going to be able to highlight and show Wales at its best. We're going to be able to showcase Wales for a legacy in tourism.
"We have got schools, young people and businesses participating in events.
"It's the UK at its best; it'll be Wales at its best."
Mrs Gillan met representatives of Mainline Coaches from Evanstown in Rhondda Cynon Taf who have been chosen to transport football teams, officials and media personnel during the football tournament.
She added: "There are other businesses in Wales that have benefited and there are 46 companies that are in the process, with more contracts being announced.
"So there is a legacy for businesses as well."
Christopher Mainwaring, director of Mainline Coaches, said: "We're looking forward to it now. A lot of preparation has gone into it.
"The planning stage has been going on for a long time. It's been very exacting from the Olympic Committee so it should all go very, very well."
'Enthuse people'
Earlier in the day, four further countries - Botswana, Lesotho, Liberia and Mexico - announced their Olympic or Paralympic teams would be based in Wales for pre-games training, with a total of 19 countries' athletes expected to come altogether.
The Welsh secretary denied that the benefits were confined to the south of Wales, where the training camps are located.
She said schools across the country would benefit from their participation in Olympic events, and highlighting the four day Wales-wide torch relay.
"It's a fantastic opportunity to enthuse people about sport, to engage them about sport and to engage them in international exchanges with other schools and other countries," she said.
Mrs Gillan also met Olympic gymnastic hopeful Lizzie Beddoe, 16, from Cardiff, and 13-year-old Emma Davies from Penarth, who won a competition for young people to design a regional mascot based on the main Olympic one.
Emma produced a variant of Wenlock, called simply the Welsh Wenlock. Her dragon and daffodil inspired badge will be on sale in the run up to and during the games.