London 2012: Four more Olympic nations choose Wales training base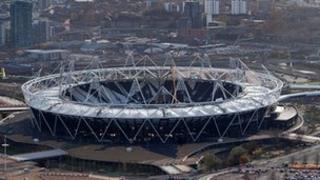 A further four nations are to base themselves in Wales for their pre-Olympic Games training.
Botswana and Lesotho's Olympic teams plus Paralympians from Liberia and Mexico will join athletes from at least six other countries in Wales so far.
The announcement comes 200 days before the start of London 2012 in July.
To mark the occasion, Welsh Secretary Cheryl Gillan is also visiting Cardiff to see how the games will benefit businesses and young people.
The four countries have signed a memorandum of understanding to formalise their agreement to prepare for the games in Wales.
Other countries already committed to a base in Wales include Trinidad and Tobago, the Irish triathlon team, Chinese weightlifters, and Paralympic squads from Australia, New Zealand and South Africa.
First Minister Carwyn Jones said the countries' decision showed the nation had the facilities and sporting infrastructure suitable for Olympic and Paralympic-level athletes.
"Pre-games training camps will also provide opportunities to develop sporting, educational and cultural exchanges with countries that come to Wales and provide opportunities for children and local communities to get involved, resulting in a positive games legacy for Wales," he added.
Teams from at least 19 countries and involving around 1,000 athletes and support staff are expected to train in Wales, with a direct benefit to the economy running into millions of pounds, according to the Welsh government.
Huw Lewis, minister for sport, said: "They'll be training alongside our communities here in Wales with tremendous spinoffs in terms of the economy, but also I hope in terms of the inspiration they can bring to our communities, particularly our young people."
Lord Coe, chair of the London 2012 Organising Committee said: "It's a great opportunity for the nations to develop sporting, educational and cultural links that last beyond the games."
Regional mascot
During her trip to Cardiff, Mrs Gillan is meeting representatives of Mainline Coaches from Evanstown in Rhondda Cynon Taf at the Millennium Stadium.
The company has been chosen to transport football teams, officials and media personnel during the Olympic football tournament in Cardiff.
She is also meeting Olympic gymnastic hopeful Lizzie Beddoe from Cardiff, and 13-year-old Emma Davies from Penarth, who won a competition for young people to design a regional mascot based on the main Olympic one.
Emma produced a variant of Wenlock, called simply the Welsh Wenlock. Her dragon and daffodil inspired badge will be on sale in the run up to and during the games.
Marking the 200 day countdown to London 2012, the chair of Sport Wales, Professor Laura McAllister, said the Bejing Olympics had been "extremely successful" for Wales.
"We will be looking to build on that with the likes of hurdler Dai Greene, triathlete Helen Jenkins, sailor Hannah Mills, boxers Fred Evans and Andrew Selby, and rower Tom James.
"Don't forget that Wales also won a quarter of Team GB's Paralympic gold medals in 2008, so we have justifiably high expectations for the London Paralympics too," she added.