South Wales Police officers gave Sean Wall, 17, cider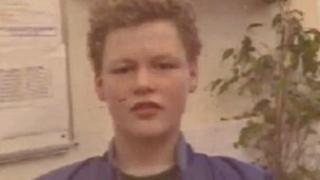 Two South Wales Police detectives have been disciplined after a 17-year-old boy was given cider before being questioned about burglaries in Cardiff.
Sean Wall allegedly admitted to crimes that occurred when he was in custody awaiting sentence for other burglaries.
One officer received a final written warning for gross misconduct and the second a written warning for misconduct.
The Independent Police Complaints Commission investigated the claims.
Mr Wall, who was described as vulnerable, was 17 at the time, on 25 February 2010, when he was being held at the young offenders unit at Parc Prison in Bridgend.
He was collected by the two officers, who are named in a document only as Det Cons Bradbury and Jones.
Mr Wall alleged he was given cider and cigarettes and taken to visit family by the police and then taken on a drive around locations in Cardiff and questioned about other burglaries.
Later on, he was asked to admit to carrying out some of those offences.
It transpired that some of the crimes he admitted to were carried out when he was in custody.
Mr Wall's solicitor asked for a breathalyser analysis to be carried out, and he was found to be over the drink-drive limit for alcohol.
Tom Davies, the IPCC commissioner for Wales, said: "These two officers dealing with Sean Wall have acted without integrity. It was right that they faced gross misconduct proceedings.
"The two officers also did not give appropriate attention to Sean's report of a very serious crime committed against him before he was remanded in prison.
"Instead they seized the opportunity to focus on crimes to be taken into consideration while he was in prison on remand for a different offence."
During one police interview, the suspect is heard on tape asking for a solicitor on 17 occasions.
"The two police officers compounded this by providing alcohol to Sean even though he was below the age of 18," Mr Davies added.
"This was clearly not for any refreshment purpose and could be seen as a crude inducement for him to help clear up unsolved crimes.
Legal age
"I am sure that members of the public will be as surprised as I am that police officers can purchase alcohol for somebody below the legal age and yet no offence was committed in law."
South Wales Police referred the case to the IPCC and initially said they were happy to manage an internal investigation which they would supervise.
But following the revelation that Mr Wall had admitted to crimes he could not have committed, the IPCC took charge of the process.
Det Con Bradbury was found guilty of gross misconduct in providing Mr Wall with alcohol, and Det Con Jones was found guilty of misconduct for failing to challenge the provision of alcohol.
Both were found guilty of misconduct for being obstructive when Mr Wall asked for a solicitor.
Det Con Bradbury was given a written final warning, and Det Con Jones a written warning.