Breast implants: NHS in Wales to remove in cases of 'clinical need'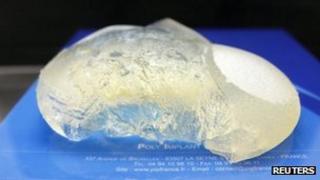 The Welsh government says it will pay to remove banned breast implants from women in cases of clinical need.
Chris Jones, medical director of the Welsh NHS, said it had to be guided by the advice from the UK government.
Its review announced on Friday insisted women did not routinely need to have the implants removed.
Mr Jones said the NHS in Wales would replace implants it fitted but hoped that private clinics would do the same for women they treated.
The implants by French firm Poly Implant Prothese (PIP) were banned last year after they were found to contain a non-medical-grade silicone filler.
In December, French authorities recommended that 30,000 women have faulty breast implants removed as a precaution.
The UK government has reaffirmed its view that the implants, which 40,000 UK women have, do not require routine removal.
It is thought 95% of women had the operation privately, 5% on the NHS.
Around 2,000 women in Wales are estimated to have the implants.
'Understandable anxiety'
In a statement, the Welsh government said the NHS in Wales would remove implants based on an assessment of clinical need, and pay for the implants if the original operation was carried out by the health service.
It added that if a private clinic no longer existed or refused to care for their patient, the NHS would assess their need and, if judged clinically necessary, remove the implants.
But the statement added that the health service would not fund the replacement of private cosmetic implants.
Mr Jones said: "I think for the moment we have to be guided by what we are hearing from [UK Health Secretary] Andrew Lansley and colleagues in London.
"We have not seen the expert report . . . my understanding is there is no definite evidence of an increased risk but the data is not all that robust and clearly these were substandard products.
"We do recognise there is an awful lot of understandable anxiety out there."
Mr Jones said women who had the implants carried out by the NHS would be offered counselling about the likely risks and benefits of replacement.
The UK government said private clinics had a "moral duty" to remove the implants from women they operated on.
'Lack of control'
But Mark Harvey of Hugh James Solicitors in Cardiff, who represents around 550 UK women who have had PIP implants, told BBC Radio Wales the UK government decision was confusing.
"It's something of a fudge I think," he said.
"One the one hand they are saying there isn't a problem, then on the other hand they say there must be problem because we will do something about it.
"What I think it shouts out overall is a complete lack of control in a very significant part of the health industry.
"Quite clearly they are acknowledging they cannot compel these [private] clinics to honour these responsibilities.
"They talk about moral duty and expecting the clinics to follow suit, so the gauntlet has been laid down to the private clinics.
"If this in turn leads to the clinics accepting their responsibilities then we fully welcome it.
"As it stands at the moment I scratch my head a little bit."