Facebook among most popular websites visited by council staff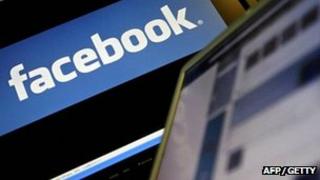 The internet habits of staff at three south Wales councils have been revealed after a Freedom of Information request.
Some of the most visited sites include social networking website Facebook, retailer Amazon and search engine Google.
The TaxPayers' Alliance said council staff logging on to Facebook was a waste of public money.
Councils said they had strict policies and guidelines in place governing the use of the internet by staff.
News, shopping and social networking websites are among the top 100 visited by council employees at Cardiff, Merthyr Tydfil and the Vale of Glamorgan.
At Cardiff council, the most popular website accessed by staff during a 90-day period last year was search engine Google, followed by Facebook then the BBC website.
News sites, including the Guardian and Daily Mail, and websites offering email were also popular.
Others in the top 100 visited by Cardiff council employees included travel advice site TripAdvisor, internet auction site eBay and online encyclopaedia Wikipedia.
Disciplinary action
Cardiff council said staff were only allowed to access the internet for personal reasons during authorised breaks, including their lunch hours.
A Cardiff council spokesman said: "All council staff with computer access, approximately 7,000, can use the internet for work-related duties which include research, reference and many other services including those provided by other government bodies.
"The council also has a number of its own Facebook sites, including the official council site as well as ones for the Cardiff Festival and Sport Cardiff, to help it communicate with residents who use social media.
"The council has an acceptable usage policy and guidelines for staff accessing the internet for personal reasons which must only be used during authorised breaks including their lunch hours."
Any abuse of the facilities "could be the subject of disciplinary action", the council added.
Facebook, the BBC website and Amazon also featured in the top 100 sites used by staff at Vale of Glamorgan and Merthyr councils.
Vale of Glamorgan's head of strategic ICT, David Vining, said staff internet access was "strictly controlled" and employees were only given access "if it is needed as part of their work".
"Access to social media sites is particularly controlled and only granted if a business case for its use is approved," he said.
"The council uses social media, including Facebook, to communicate with residents and has a number of Facebook sites, including Vale of Glamorgan Life. The use of social media is something which is currently being developed by the council.
'Recorded and monitored'
"Sites such as Amazon are sometimes used for equipment purchases and price comparisons."
He said there was no evidence staff were spending time on shopping, holiday and video entertainment websites, and any employee misusing access would "face disciplinary proceedings that could lead to dismissal".
Merthyr Tydfil council said all staff and members were required to confirm their "acceptance and adherence" to the authority's internet acceptable use policy on an annual basis.
"The primary use of the internet is for business purposes, however, private use is permitted daily between 12 noon and 2pm when staff are clocked out for lunch," said the council.
"The correct protocols still apply and all internet access is recorded and monitored."
A Rhondda Cynon Taf council spokesman said staff were allowed web access "but only in strict accordance with our internet usage policy and outside of core working hours, such as lunchtimes".
'Serious questions'
"This usage is overseen and monitored both electronically and by office management. The council is confident in the effectiveness of its policy," said a spokesman.
Lee Canning, of The TaxPayers' Alliance in Wales, said it appeared that public money was being wasted.
"It goes without saying that from the point of view of tax payers and The TaxPayers' Alliance, especially when council workers are so eager to go on strike, actions such as logging on to Facebook or looking for holidays might show there's not enough for some of them to do," he said.
"Those employees need to be asking themselves some serious questions about what they're doing in their work time."