Flood warnings as heavy rain is forecast for Wales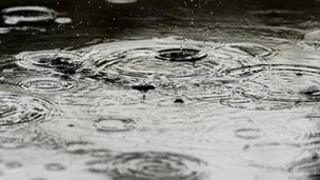 Environment Agency Wales has warned of possible localised flooding due to a forecast of heavy rain across much of the country overnight.
Disruption is possible across Wales but particularly in the south east and south west, including the Brecon Beacons, over the next 24 hours.
The worst of the rainfall is expected overnight until late Tuesday morning.
A spokesperson said no flood alerts had been issued up to now, but people were advised to be vigilant.
"A period of wet and windy weather is expected to develop across Wales overnight on Monday, and continue until around mid morning Tuesday," said an agency spokesperson.
"Some heavy and prolonged rain is to be expected, particularly across the hills of south Wales, the Brecon Beacons and much of Swansea, Neath Port Talbot, Bridgend, Rhondda Cynon Taff and Merthyr Tydfil, with much of the remainder of Wales also experiencing a wet night."
The concern is that with the ground already saturated any rainfall will cause rivers to rise.
"Possible flooding of property, roads and low lying land may occur leading to some disruption," said the spokesperson.
"Flood alerts may be issued along with the possibility of some flood warnings. There is also a risk of falling debris due to the high winds expected."
The agency is advising people to listen to local weather and traffic reports and to view the latest information on the Met Office website.
Flood alerts and warnings can be found on the Environment Agency website or by calling Floodline on 0845 988 1188.