Welsh government's warmer homes plan with new powers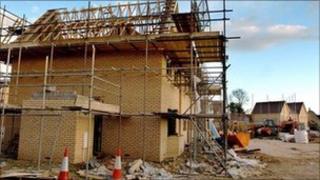 Making homes more energy efficient will be one of the first aims of the Welsh government as it receives new powers.
Responsibility for building regulations is being transferred from the UK government on Saturday.
The Welsh government said the powers would lead to new homes that were much warmer and cheaper to heat.
House builders have previously raised concerns that changes would push up the cost of developing new homes.
Environment Minister John Griffiths said the new powers would help to ensure "sustainable and environmentally friendly construction in Wales".
"One of our first actions will be to raise energy performance standards in new homes," he said.
"As a government we are committed to reducing the carbon emissions of the built environment and to moving to building standards that will deliver housing that is much more energy efficient.
"We have already made significant efforts to achieve these aims through our planning policies. However we recognise that building regulations will be one of the key tools in helping us to reach our goals."
Fire sprinklers
Eight members of a Building Regulations Advisory Committee for Wales, which include house builders and architects, have been appointed.
The environment minister is expected to consult on the plans in March next year.
Redrow Homes chairman and founder Steve Morgan has previously criticised the Welsh government over a Welsh law which would make fire sprinklers compulsory in homes.
He said fewer homes would be built as developers would be deterred by the cost, particularly when added to any extra expenditure to meet the new building regulations on energy efficiency.
Mr Griffiths is expected to consult on the plans in March.