The number of deaths at work in Wales has increased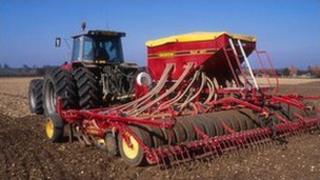 The Health and Safety Executive (HSE) has issued a fresh warning about safety in the workplace following a rise in the number of people killed at work in Wales.
Eleven workers lost their lives in 2010/11 in Wales compared with seven the previous year.
A further 1,399 people suffered major injury.
The HSE said Wales still had one of the lowest rates of workplace deaths in Europe.
Last year, three workers died in Powys; two in Ceredigion and Carmarthenshire; and one in Bridgend, Denbighshire, Monmouthshire and Rhondda.
The HSE said the majority of victims fell from a height.
Nick O'Connor, principal inspector for the HSE in Wales, said the figures highlighted the importance of good health and safety in the workplace.
Cut deaths
"Hundreds of other workers have had their lives changed forever by a major injury," he said.
"Employers need to spend their time tackling the real dangers that workers face and stop worrying about trivial risks or doing pointless paperwork.
"It's important to remember that we still have one of the lowest rates of workplace deaths in Europe, but one death is still one too many.
"I'd urge businesses to focus on helping to cut the number of deaths in 2012."
The number of deaths also rose across the rest of Britain in the last year.
A total of 171 died in 2010/11 compared with 147 deaths in 2009/10, and more than 24,700 workers also suffered a major injury
The HSE is urging employers to make the safety of workers a priority for 2012.
Around the UK, high-risk industries include construction, which had 50 deaths last year; agriculture with 34 deaths; and waste and recycling, which had nine deaths.